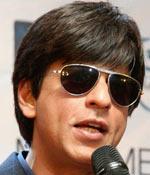 Shah Rukh Khan has highlighted weaknesses of full-body scanners in terms of privacy.
The invasive scanners, which allow security to detect non-metallic devices, objects and weapons on a person's body but also reveals organs and genitals in the process, are set to be rolled out across Australia's airports.
While talking to BBC talk show host Jonathan Ross, the actor revealed that he autographed printed scans of his body for female security officers, reports News.com.au.
'I was a little scared. I came out (of the scanner) and then I saw these girls and they had these printouts,' Khan said.
'So I looked at them, I thought maybe it's a form you're supposed to (sign) ... and you could see everything inside. And then I've autographed them for them,' he added.
Khan, whose latest movie My Name is Khan is releasing amid protests from the Shiv Sena, said the incident which occurred at London airport embarrassed him.