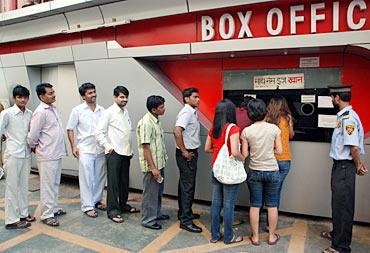 Defying the Shiv Sena threat, multiplexes in the city screened the movie which opened to packed houses on Friday.
In all, 30 of the 60 multiplexes and 36 single screens were to show the film. All but four single-screen cinemas have backed out, sending a strong message that the intimidatory tactics of the Sena will not work.
Amid the cloud of uncertainty, six multiplexes and four single screen cinemas cancelled the morning shows but went ahead with post-noon shows following an overwhelming public response.
Making a political statement, Maharashtra Home Minister R R Patil and Minister of State for Home Ramesh Bagwe went for the opening show.
With the "House Full" sign, actors Kabir Bedi and Pooja Bedi had to go back without watching the movie. The police arrested 24 Shiv Sainiks who protested outside Fun Cinemas in Chembur.
Notwithstanding the Maharashtra government's reassurance about adequate security at all cinemas, theatre-owners had voiced their concerns over possible attacks by Sena activists threatened to disrupt screenings unless Khan apologised for supporting inclusion of Pakistani cricketers in the IPL.
Opens well in US, Canada
Meanwhile the Shah Rukh starrer has opened to enthusiastic crowds in 119 theatres across the US and Canada.
Being marketed and distributed in the US by Fox Searchlight, the movie was released simultaneously in the US and India on Friday.
Both Khan and co-star Kajol were in New York last month to promote the movie and rang the NASDAQ bell at the American stock exchange.
"My Name Is Khan registered brisk sale of advance tickets. Being released on Friday and followed by a long-weekend, huge lines are expected to be seen outside movie theatres in cities and states having sizeable Indian American population like New York and New Jersey," said promoters of the movie in the US.
The film's release ran into trouble in India after Shiv Sena lashed out at Khan for supporting inclusion of Pakistani players in the IPL. Over 1800 Sena activists were arrested by the Mumbai police to ensure the smooth release of the film. In Gujarat, the first few shows were cancelled after VHP and Bajrang Dal activists staged protests and torched posters of the movie.
Any MNIK protests in Mumbai? Report it!
So you support the release on MNIK? Click here!
Read the reviews here: Savera R Someshwar | Sukanya Verma
In the picture: People line up to watch MNIK in a Mumbai theatre. Photograph: Arun Patil