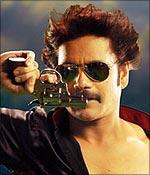 Nagarjuna has an eye for spotting talent in young people with a passion for cinema. He has given several, like Ram Gopal Varma and Krishnavamsi, a chance to write or direct.
This time around Nag has given newcomer Kiran Kumar a chance to direct Kedi. The Telugu film marks the return of the superstar to movies (his last film King released in December 2008).
So how does Kiran fare? Well, he has put together a film showing Nag as a conman who lives in the present. But the movie isn't only about gambling, rummy or casinos. Kiran attempts a slightly new screenplay technique wherein the film moves back and forth in time. He tries to present the debonair Nag in new light. But, somehow, the film based on a slender premise, fails to hold our attention in large parts.
Incidentally, the film boils down to a story of good versus evil though the path traversed is a bit different from the mainstream format. Perhaps Nagarjuna could have been more judicious while selecting the script.
The story is like this: A teenage Ramesh, also known as Rummy (Nagarjuna), runs away from home (in Guntur). Later he is shown as a conman trying to dupe people of money. The film meanders along as he meets Inspector Shekar (Sayaji Shinde) Chandra (Ankur Vikal of Slumdog Millionaire fame) and Victor (Kelly Dorjee) Yadav.
It's with Chandra that Rummy starts off from Goa doing small things and later asks for a huge slice of the pie. In his life journey he does some good too by helping a foreign girl (played by Linda) to unite with her sister, who gets sucked in the drug racket. He meets Sandhya alias Janaki (Mamta) and her son. He gives them shelter and later her son takes to Rummy as his dad. The film meets a logical end where Rummy ensures he does something good.
There aren't many twists in the story though the screenplay moves back and forth in time, which makes it a bit perplexing as we constantly have to figure out what's happening. The loopholes in the script seem glaring too. One is not sure how Rummy becomes what he is. Also, the tardy pace of the film is a bit off-putting though it does pick up some steam later on.
The film is made in the commercial format -- we have songs, an item number by Anushka and action. There is also a beautifully shot dream song picturised in Greece.
Kiran has tried to present Nagarjuna in a different light by adding grey shades to his character. But there is nothing new as the hero shown as a conman at first, is a good man after all. 
What is different besides the screenplay is the presentation of the love interest (Mamta Mohandas). She makes her appearance an hour into the film.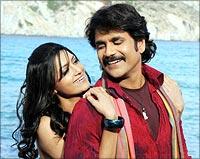 Cliches aside, the plus point of the film is Nagarjuna who just glides through the role. The dashing actor is absolutely effortless in his portrayal of Ramesh.
Mamta Mohandas doesn't have much to do and looks rather blank in many scenes. Brahmanandam is a bit different from his usual self and one does miss that. Ankur is able to deliver a good performance in a negative role which is akin to the one he did in Slumdog.
Sarvesh Murari handles the camera well especially in the parts shot in Greece and Goa. Sandeep Chowta's music score sounds just about okay with picturisation. Editing could have been better in certain parts. The film is slick with good production values.
Kedi, on the whole, is a concoction sans much spice. Watch it for Nagarjuna.
Rediff Rating: