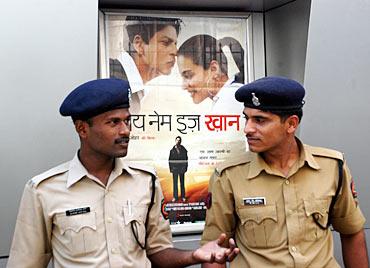 Among the Bollywood buffs watching the first day first show of My Name Is Khan was Maharashtra's minister of state for home, Ramesh Baghwe.
Coming out after the screening of the film at the Inox theatre in south Mumbai, he said MNIK is a 'wonderful film that must be watched by every Indian irrespective of their caste or religion.'
He also reinforced the government's stern stand against the protesting Shiv Sainiks.
"Strict action will be taken against the Shiv Sena hooligans if they try and disrupt the film's screening anywhere in Maharashtra," he said.
When asked about the violence and arson that had already taken place in different parts of the state, he said, "What else can you expect from the Shiv Sena?"
The Shiv Sena has been protesting against the release of MNIK after its lead actor Shah Rukh Khan said Pakistan's cricketers should not have been sidelined by the Indian Premier League. Khan owns the Kolkata Knight Riders, which is part of the IPL.
In the picture: A Mumbai theatre gets police protection. Photograph: Arun Patil