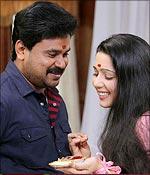 There are some filmmakers who are burdened with huge expectations from fans. Director Kamal is one such filmmaker because his latest Malayalam movie, Aagathan; The one who came marks the reunion with his one time assistant Dileep in the lead.
At the beginning itself, Dileep is introduced as a high flying professional in his early thirties. The prologue says that Gautham Menon (Dileep) is a victim of terrorism in Kashmir -- his parents and elder sister were killed by terrorists there.
Now, the orphan returns home after working abroad as a software professional, seemingly to complete some unfinished business. First he goes to his foster parents and tells them that he is ready to be legally adopted. They vanish after the scene is over.
Then he goes on to meet Major George Joseph (Lal), a drunkard who creates a ruckus at a bar for not being to settle his bill. Gautham settles the bill and takes him home where we learn more about how the two are connected to each other.
From here, the story takes off on a different tangent. A game of seduction begins with Gautham playing hide and seek with Shreya (Charmi), who turns out to be a general's daughter.
After a promising premise, the story begins to lose its charm and suspense.
The screenplay and dialogues (credited to director Kalavoor Ravikumar) look and sound like they have been inspired from various sources beginning with Sibi Malayil-directed Maya Mayooram to the Oscar-nominated A Few Good Men.
Coming to the performance, Dileep's character, which promises to be different initially, becomes boring after a while. It reminds us of his acting in Chess and July 4. But this project is surely a few notches above those two films. The culprit here is the script.
Sathyaraj, who plays General Harindranath with negative shades, lacks the intensity required for these kinds of roles. His dialogues too are dubbed by the all too familiar voice of Sai Kumar, which hampers his performance further. Even the legendary 'you can't handle the truth' moment performed by Jack Nicholson in A Few Good Men falls apart here due to dubbing.
Lal's character of Major George Joseph seems to be a replica of his award-winning performance in Thalappavu. The only difference is that he was silent and brooding in the former while here he returns to his original exaggerated body language and talkative self.
Charmi as Shreya is charming though her performance is nothing to write home about.
On the whole, while Aagathan is better than what Dileep has been dishing out in the recent past, it still is mediocre.
Rediff Rating: