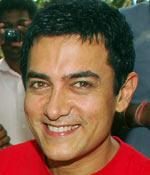 Aamir Khan has withdrawn his resignation from the Copyright panel on Friday.
The actor resigned from the 10-member committee set up by HRD Minister Kapil Sibal to review the proposed amendments in Copyright Act following differences with some members.
The actor resigned after he reportedly had heated exchanges with lyricist Javed Akhtar and others over the issue of royalties in a meeting between producers and writers.
Aamir, on the side of the producers, said that a song's popularity depended on the star it was picturised on and not on the lyricist's efforts, much to the annoyance of Akhtar, who said that song Papa Kehte Hai became a hit even when Aamir was a newcomer in Qayamat Se Qayamat Tak.