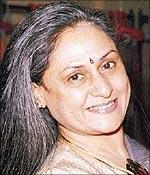 Jaya Bachchan will be honoured with a "Lifetime Achievement Award" in a special ceremony in London on March 5.
 
The award is for her "outstanding contribution to Cinema spanning over three decades", which will be presented by "Tongues on Fire" film festival in a gala dinner at Sheraton Hotel in Piccadilly area of London, hosted by British television and film actor Rizwan Ahmed.
 
Her son Abhishek will also be present. Tickets are 150 pounds (about Rs 10,700) plus Value Added Tax.
 
"Tongues on Fire", being held in United Kingdom from March 5 to 14, is a film festival dedicated to expressing the drive and spirit of Asian independent media and cinema cultures of South Asia. It provides a unique international platform for Asians working in film and media around the world.
 
Jaya Bachchan, 61, starting her career at 15 in legendary Satyajit Ray's Bengali film Mahanagar (1963), acted in about 44 movies and has been producer, writer and Rajya Sabha member. She has received Padma Shri, Filmfare Lifetime Achievement Award and has won six Filmfare awards.
She is also an alumnus of Film and Television Institute of India in Pune.