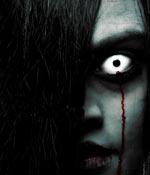 With two flops -- Chura Liyaa Hai Tumne and Ek --The Power of One, and two successes -- Kya Kool Hai Hum and Apna Sapna Money Money, director Sangeeth Sivan has so far had a mixed kitty. His newest release, Click, falls somewhere in between.
Though a copy -- Click bears close resemblance to Masyuki Ochiai's Shutter, The Ring and The Grudge because of its look and graphics -- the film is watchable. Horror film buffs will enjoy Shreyas Talpade and Sadaa's performance.
For those who haven't watched any of the above films, you will find the storyline quiet interesting. The horror quotient of Click is much better compared to Ram Gopal Varma's or Vikram Bhatt's flicks in the same genre.
Shreyas plays a photographer Avi who is in a live-in relationship with model-turned-girlfriend Sonia (Sadaa). The initial few scenes -- sexy photography sessions, seduction act by Sonia and a party scene followed by a song and dance sequence -- are unnecessary. The actual story starts when Sonia (driving the car because Avi is drunk) runs over a girl.
Post the accident Avi and Sonia are haunted by spirits that appear in photographs and follow them everywhere. The pair are also plagued by nightmares. A series of such scary, spine chilling, nail biting and haunting events force Sonia to find out details about the dead girl which leads her to Aarti Kaushik (Sneha Ullal) and the college she studied in.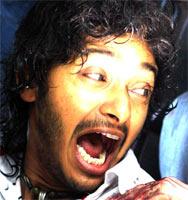 As Sonia digs further, more details about the connections between Aarti and Avi emerge making things clearer. Avi's friends die in mysterious ways making Avi the next possible victim. After a few flashbacks, you realise why Aarti was haunting Avi and Sonia. What happens then forms the climax of the film.
The story leading to an unusual climax is interesting. Another interesting aspect is that the film's hero is being haunted for no apparent reason. But he has a past and what happens to him in the end is justified.
Sangeeth Sivan succeeds in keeping you engrossed for most of the film though a crisper ending would have been better.
Shreyas makes his character very believable while Sadaa does a good job in the seduction as well as scary scenes. Though Sneha Ullal has no lines to deliver, she blows you away with her performance as the spirit. Other actors add to the mystery along with Chunky Pandey who looks hideous but adds flavour to the story.
Visual and sound effects add to the 'scariness' factor. Kudos to sound designer Parikshit Lalvani for the background music which actually makes you jump. However, Shamir Tandon's songs are really not necessary. Cinematography by Ramji is good.
Overall, Click is a decent movie. Watch it for the good performances.
Rediff Rating: