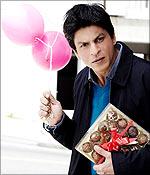 M
y Name Is Khan
, which set many records last week including the biggest opening for its stars Shah Rukh Khan and Kajol and director Karan Johar, shattered yet another record: it plunged about 69 percent in its second weekend in North America, becoming the first Shah Rukh Khan film to suffer such a loss.
The second weekend also saw a worldwide plunge of about 55 percent. It yielded about $6.3 million, according to Fox International Productions, the newly-formed Fox local filmmaking venture.
Yet, the film is a formidable player, grossing in the second weekend more than the earnings of expensive Bollywood films like Veer. It is likely to play in a significant number of theatres for at least two more weeks. Currently, it is showing in some 1,570 theatres worldwide.
MNIK, which unfolds against the backdrop of  9/11 and details a man -- afflicted with Asperger syndrome -- and his fight to win back his wife's love, has grossed $25 million worldwide, as per its distributor Fox. It could end its run with $30 million.
In North American, it grossed an impressive $700,000, taking the total to $3.28 million, making it the highest grossing Karan Johar movie. His previous film Kabhi Alvida Naa Kehna grossed $3.27 million in North America three years ago. While this is a formidable achievement compared especially to Shah Rukh Khan's earlier hit Rab Ne Bana Di Jodi ($2 million in North America), it falls short of business for the all-time Indian box office champ in America, 3 Idiots. That film starring Aamir Khan grossed $6.6 million.
Meanwhile, Avatar dominated the world market grossing an awesome $67 million for the tenth consecutive week. Sliding by 22 percent, it took its total to $2.47 billion. According to The Hollywood Reporter, in addition to its worldwide record in current dollars, Avatar has now beaten 1997's Titanic's global $1.8 billion box office milestone on an inflation-adjusted basis as well.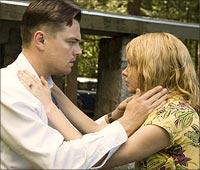 In North America, the thriller Shutter Island, based on a Dennis Lehane bestseller about the mysterious happenings in an asylum for the criminally insane, scored an impressive box office record for actor Leonardo DiCaprio and director Martin Scorsese. It grossed an estimated $40 million. Even if it were to take a steep plunge in its second week, it could end up with a decent $100 million in North America alone.
'In Shutter Island, Scorsese has created a divinely dark and devious brain tease of a movie in the best noir tradition,' wrote Betsy Sharkey in Los Angeles Times, 'with its smarter than you'd think cops, their tougher than you'd imagine cases to crack and enough nods to the classic genre for an all-night parlor game.'
DiCaprio plays Teddy, a US marshal trying to make sense of the strange happenings in a prison on Shutter Island. Ben Kingsley plays Cawley, the prison's medical director.  
Among the anti-Shutter Island critics, A O Scott was most belittling. Calling the film an overblown effort, Scott slammed it in The New York Times. 'Mr Scorsese's camera sense effectively fills every scene with creepiness, but sustained, gripping suspense seems beyond his grasp,' he wrote. 'Mr Scorsese in effect forces you to study the threads on the rug he is preparing, with lugubrious deliberateness, to pull out from under you. As the final revelations approach, the stakes diminish precipitously, and the sense that the whole movie has been a strained and pointless contrivance starts to take hold.'
Among the strong defenders of Scorsese was Roger Ebert. Giving the film three and half stars out of four, Ebert declared in Chicago Sun-Times, the movie had 'flawless directorial command... Scorsese has fear to evoke, and he does it with many notes.'
As for those complaining that the movie's ending 'blindsides you,' he wrote that he did not have a problem. 'This movie is all of a piece, even the parts that don't appear to fit,' he mused. 'There is a human tendency to note carefully what goes before, and draw logical conclusions. But -- what if you can't nail down exactly what went before? What if there were things about Cawley and his peculiar staff that were hidden? What if the movie lacks a reliable narrator? What if its point of view isn't omniscient but fragmented? Where can it all lead? What does it mean? We ask, and Teddy asks, too.'
Audiences apparently were undeterred by the negative comments.