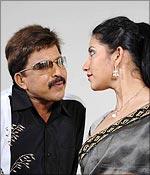 As expected, Aptharakshaka, late Vishnuvardhan's last Kannada film is running to packed houses across the state. Bangalore, in particular witnessed a grand opening as fans thronged Narthaki theatre, which had undergone a makeover prior to the release. The lucky few, who managed to get the first-day, first -show tickets, created a festive like atmosphere in the theatre.
Fans paid tribute by offering pooja and milk abishekas to the star's huge cutouts. Sweets were also distributed. A Vishnu look-alike, who moved amidst the crowd shaking hands and waving, added glamour to the atmosphere. Some fans even carried books on Vishnu to the theatre.
It was then time for the film to start. Vishnu's onscreen presence was welcomed with whistles and claps. While some fans threw flowers at the screen, others went up to the screen to touch the actor's feet. There were no limits to the crowd's excitement when Vishnu threw punching dialogues at them. During the interval, trivia about him was screened.
All in all, the first-day, first-show experience was not something to be missed and little wonder then that people were ready to pay thrice the ticket price in some theatres. There were reports that tickets were sold in black for a whopping Rs 3000! In Mysore also there has been a great demand for tickets. Over the weekend tickets were sold for anywhere between Rs 1,000-2,000. The actual price of a balcony ticket is Rs 40.
"I fortunately got a ticket and didn't have to shell out so much money. But I'll say that the movie would be worth every penny spent. I'm new to Bangalore and wanted to catch a Kannada movie and there couldn't have been a better choice," says Arvind, an avid movie watcher.
The producer of the film, Krishna Prajwal is an elated man. "We have released the film in 70 theatres across the state and in 30 in Bangalore alone. Yet people are finding it difficult to get tickets," he says.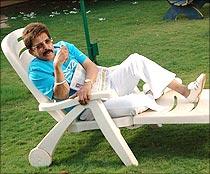 Krishna has been getting feedback from the industry colleagues about people's reactions. "I've heard families, most of them dressed in new clothes, going to see the film. This phenomenon was seen 30 years ago when Rajkumar's or Vishnu's films were released. Even industry people said that the success of Aptharakshaka has encouraged them to make more films." 
Can part of this euphoria be attributed to the sympathy wave surrounding Vishnu's death? "Master also was released after his death, but it didn't generate this kind of response. People liked the story. Superstar Rajinikanth was also very impressed. He said that Aptharakshaka equivalent to three Rajini films put together. He said that Vishnu was his radiant best in the film," Krishna said
While joy is obvious, the pain of missing Vishnu on this occasion is also evident in his voice. "We knew it would be a hit, but what we didn't know was that it would be his last film. He was the one who chose me as the producer. I plan to do something for him and I'll reveal my plans once the film completes 100 days," he signs off.
Further, the weekend witnessed road shows in honour of Vishnu. Also the Aptharakshaka team along with Vishnu's family visited the actor's grave.