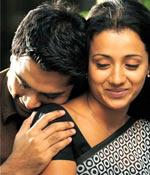 Love stories have always ruled the roost in Tamil cinema. But Red Giant Movies' and Escape Artists Motion Picture and R S Infotainment's Vinnaithaandi Varuvaaya (Will You Cross The Skies For Me) puts a new spin to the age old romantic tale.

Directed by Gautham Vasudev Menon, the film is possibly one of 2010's most anticipated movies.

The best part about VTV is that it revolves around people, rather than events. It's like putting a camera into the intimate, everyday life of two people and following them on their adventures. The characters go through a whirlwind of emotions, laugh and cry, and take you along with them.

So you have Karthik (Silambarasan aka Simbhu), a mechanical engineering student just out of college, who cherishes the hope of becoming a filmmaker. His father (Kitty) is not convinced but Karthik is very persuasive. Eventually, he becomes an assistant director to K S Ravikumar (who makes the best of the few minutes he's allowed and has a blast). He's always around cameraman Ganesh (Ganesh) -- the two hunt for locations, share philosophies about life and become best friends, despite an age difference.

Then Karthik's life turns upside down. Jessie (Trisha Krishnan) passes him by on the street -- and he's instantly smitten (here's where you have the delightful Hosanna, sung with enthusiasm). She's dressed simply, invariably in cotton saris or salwar kameezes, smiles politely, and never seems to even recognise him as she goes to her job at Polaris. But everything she does excites him. He starts following her everywhere, eats where she eats, drinks what she drinks and in one sudden, completely un-looked for moment, confesses that he's 'crazy about her.'

Jessie, however, is more shocked than impressed. What follows is her background: Malayali Christians from Alappuzha, her family will never consent to this. Jessie is firm, polite, but Karthik is reckless. He believes her heart tells a different story. He pursues her in earnest, only to be rebuffed even more, every time. They make a tentative arrangement to be 'just friends' -- but a train journey shows them that that can't happen.

Finally, Jessie tells him flatly that she's going to get married, and nothing can stop the wedding. Life turns upside down for Karthik once again.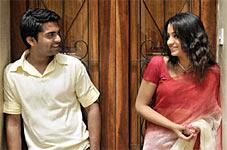 This isn't exactly a story about a boy who falls hopelessly in love -- it's more about Jessie. His intentions and actions are simple: he's crazily in love with her, and has no idea why he fell in love with her. Jessie, on the other hand, is a marvelously complex character. You never know what her real feelings towards Karthik are until she talks to him; can't guess her motivations or her decisions because she herself doesn't know them.

She wants romance but not without her father's consent, who would rather die than see his daughter married to a Hindu. Jessie maddens Karthik, tossing him like a cork on sea-waves and in the process, draws you in.

As far as acting goes -- kudos to the director for the perfect casting. Simbhu finally learns to downplay things, and is a joy to watch, especially when he's in the throes of getting Jessie to love him. He's cautious, optimistic, blindly happy one moment and yet puzzled by her the next. His reaction to her every move is priceless; he does more with his body language than with dialogues.

Trisha is a revelation. Shorn of her filmi make-up, she dazzles in Nalini Sriram's simple costumes. She transforms herself into a complicated person who wants something but can't bring herself to accept it. The hurt in her eyes when she asks Simbhu if he's 'moved on' is perfect. The two try to outdo each other in every scene, and the chemistry between them is palpable. And Gautam Menon has given full reign to it.

Ganesh does a perfect job. Babu Anthony, Kitty and Uma Padmanabhan are believable, but this movie is so completely woven around the lead cast that the rest barely figure in it.

Credit for their perfect portrayal, of course, goes to Gautam Menon. This is one director who's got the pulse of today's urban youth perfectly. Almost every one-liner in the first half earns applause. Despite being the usual love story, the plot twists and turns are admirable. There's logic and rationale in plenty.

On the minus side, VTV suffers from the same defect as Vaaranam Aayiram: the second half lags in pace. The dialogues and confrontations are repetitive. There's a would-be love-track that seems unnecessary before the story takes off again.

A R Rahman's soundtrack is very romantic; the background score fits in and Aaromalae is a delight. But some of the songs in the second half don't fit.

Manoj Paramahamsa's camerawork is sizzling. One moment, the tone is deep, soothing and romantic; at others, harsh and in-your-face. Antony's editing is sleek. Rajeevan's art-work is perfect. Silva's fight sequence, thankfully, segues in neatly, and is a pleasure to watch.

The ending might take you by surprise. It's unconventional, but in hindsight, is the only way this story could have ended.

English and Malayalam languages figure as much as Tamil in the conversation -- but this is a love story that, after a long time, is really about love, without the goondas, irate villains and mindless comedy. The characters and their emotions take precedence -- and that really is what love is all about. A must-watch.
Rediff Rating: