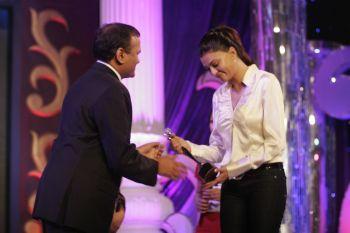 The ninth GR8 Women Achievers Awards felicitated 24 top women achievers for their contribution to their respective professions. The glittering function was held at ITC Grand Maratha on February 26 in Mumbai.
The theme of the event was Anu Ranjan's crusade against female foeticide called Beti. The event, which encourages women's power and achievement every year, saluted the remarkable achievements of the awardees this year also.
The event was attended by celebrities like Zarine Khan, Ashoke Pandit, Arya Babbar, Ranjeet, Aruna Irani, Javed Akhtar and Shabana Azmi, Shonal Rawat, Abhijeet Sawant, Mugdha Godse, Aarti Chabbria, Shama Sikander, Poonam Dhillon, Reshmi Ghosh, Yukta Mookhey, Bhagyashree, Rajiv Shukla, Satish Shah, Madhur Bhandarkar, Pooja Chopra, Ramesh Sippy, Praful Patel, Dheeraj Kumar and others.
Actors Dia Mirza and Arshad Warsi performed a dance number from their forthcoming movie Hum Tum Aur Ghost.
Ratan Rajput, Aditi Gupta, and Neha Marda danced to the old numbers of Asha Parekh as a tribute to her.
Some of the prominent winners included Aishwarya Rai, Sushmita Sen, Saroj Khan, Rukhsana Kausar, Aradhana Gupta (Molestation victim Ruchika Girhotra's friend), Loveleen Tandon, Asha Parekh, Shahnaaz Hussain, Zoya Akhtar, Reshma Dhillion Pai (medicine) and many others.
Aishwarya was awarded with Gr8 scroll of honour for social service and global recognition. The actress had come with her mother and invited her on stage saying she is the true superwoman and her inspiration to excel in everything she does.
She said, "I am not a raging feminist but a humanist, that is the way I have been raised. People like us whenever we get an opportunity we do our bit for women empowerment."
Shushmita Sen was awarded with Gr8 special mention for supporting a girl child. She too invited her mother on stage and asked her to share the trophy as she was the real woman of substance.
Sushmita said, "My family had always taught me to revere the female energy -- she is called Shakti and has the power to create and nurture. My mother is my Shakti.
Saroj Khan was awarded for dance; she regaled the audience by not giving a victory speech, but by paying a tribute to the women achievers with her trademark whistle. 
Asha Parekh won the Golden Laurel and she was delighted to receive the honour. Ruchika Girhotra's friend Aradhana Prakash and Asha Parekh were given a standing ovation by the audience.
Aradhana thanked everyone for the support and said that her fight is not over till the guilty was brought to justice.
The highlight of the evening was a special tribute paid to Anu Ranjan's cause of Beti --contestants from across the country had been invited to send a 45-second video on 'Saving the girl child'.
Of the many participants, the winner was chosen who got a prize money of Rs 1 lakh for his winning message. 
The show was anchored by Meghana Malik and Mahii Vij Pushtiee from Sony's Mahii Way, who also interacted with the gathering in between the acts. 
Watch the telecast on March 8th  at 8 pm on Sony television.
List of award winners
Chetna Sinha -- Social Services; Suman Sharma, Aradhana Gupta, Loveleen Tandon and Rukhsana Kausar -- GR8! Special Mention; Dr Jatinder Kaur Arora -- Science & Technology; Krushna Patil, Sparsh Khanchandani -- Sports; Jashmin Shorabji -- Young Achiever (Advertising); Dr Rishma Dhillon Pai -- Medicine; Amita Wattal -- Education; Manisha Girotra -- Banking & Finance; Pooja Chopra -- Beauty; Mehgna Malik -- Television; Kavita Seth -- Music; Sabina Khan -- Fashion & Designing; Zia Modi -- Law; Asha Parekh -- Golden Laurel; Latika Khaneji -- GR8! Women's Entrepreneur (Marketing & Management-Sports); Saroj Khan -- Dance; Directing -- Zoya Akhtar; Sushmita Sen -- GR8! Special Mention "Supporting a Girl Child"; Rekha Purie -- CSR; Shahnaz Hussain -- Entrepreneur; Aishwarya Rai -- GR8! Scroll of Honour (Cinema, Social Services & Global Recognition);
Image: Sushmita Sen recieves the award from industrialist Pradeep Dhoot