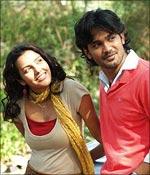 When you learn that Mayabazaar Cinemas' Tamil venture, Pugaippadam (Photograph) reduced veteran director Bharathiraja to tears, you expect a great deal from the film. And in some respects, Rajesh Lingam's (who earlier assisted Selvaraghavan) new film does satisfy you.
Unfortunately, those moments are few and far in between, so the overall effect is more of weariness and tedium.

You have the narrator setting the scene, detailing the lives of a gang of college students -- Krishna, Nandha Johnny, Bala, Krithika Rao aka KK and Gowri (Amjad, Harish, Sivam, Nandha, Mrinalini and Yamini) -- in Kodaikanal. The students are a merry lot, trying to fit into college and getting to know each other. How they do this is rather charmingly told: with pseudo-quarrels in dorms, petty disputes, magnanimous gatherings and fun moments.
To add some spice to the mix comes in Shinie George (Priya) -- and instantly, the group's chemistry changes.
Problems slowly crop up, and although the gang of friends maintains its equilibrium, disaster awaits them in the process.

Director Rajesh Lingam seems to have got the college-banter right in his screenplay. The chemistry and ambience is just fine when the students are rattling away at top speed and ribbing each other. The mild doses of mushiness, re-inforced by composer Gangai Amaren, don't bother you too much.
If the characters get too emotional like Johnny breaking into impassioned speeches, or KK having a really silly accent, it doesn't hamper the proceedings.
But post interval, the script becomes predictable, and worse, incorrigibly sappy.

College life always has a good dose of sentiment built into it but this particular batch of friends practically seems to thrive on melodramatic dialogues, sentimental speeches and buckets of tears. So despite the actors striving to keep themselves afloat, by the time the tear-drenched 40-minute climax finally does get over, you're exhausted.

If only Rajesh Lingam had kept the initial chemistry between the characters intact, we'd have had a cult classic. As it is, Pugaippadam now works only in parts.
Rediff Rating: