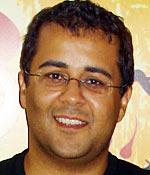 After the war of words over the issue of credit in the blockbuster 3 Idiots, author Chetan Bhagat apologised to Aamir Khan and the filmmakers, saying he would like to put a lid on the controversy and 'move on.'
The author, whose book Five Point Someone became the basis for the film, had accused the producers of not giving him due credit in the movie.
"I definitely do not have anything against team 3 Idiots. I may have some issues on the mistake they may have made but nothing about their personality or the kind of people they are. I apologise to their families if there was any distress caused to them," Bhagat told a news channel.
"I also want to thank all my fans, who stood by me but I don't want them to turn against anyone especially Aamir. I love Aamir and they should continue to love Aamir. I also apologise to his fans," Bhagat said.
Aamir, who plays Rancho in the movie, had blasted Bhagat for being 'hungry for cheap publicity' and trying to take the credit away from the scriptwriter Abhijat Joshi.
Bhagat had retorted to the allegations by saying that Aamir should stay out of the issue as he has not even read the book.
He had called Khan and the filmmakers -- producer Vidhu Vinod Chopra and director Rajkumar Hirani -- 'uncivilised people', saying, 'They are making a fool of themselves.'
© Copyright 2023 PTI. All rights reserved. Republication or redistribution of PTI content, including by framing or similar means, is expressly prohibited without the prior written consent.