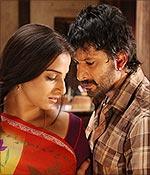 Isn't it great to wake up to fantastic music? The last year was a lackluster one for Hindi cinema on the whole, but the last week of December ended with the promos of Dil To Bachcha Hai Ji from Abhishek Chaubey's Ishqiya, and hope was rekindled.
Once again Gulzar and Vishal Bhardwaj have conspired to give us a soundtrack to marvel at, that one intoxicatingly warm song leading the way.

It kicks off the album, it does. Rahat Fateh Ali Khan nails soulful words better than most, and the singer imparts a yearning quality to the phenomenal words. Gulzar's in top form here, speaking of how the heart never ages and masochistically carries on, incorrigible and invulnerable.
'Dil sa koi kameena nahin / koi to roke, koi to toke / Iss umar mein ab khaoge dhokhe' (There isn't a scoundrel like the heart, someone stop him, interrupt him, how can you bear pain at your age.') Magnificent.

Next up is Ibn-E-Batuta, a glorious roadtrippy take on history as the lyrics take on the Moroccan traveller and chronicler before heading into cheerfully morbid territory. Sukhwinder Singh and Mika get a smashing vibe going, and put their heart and soul into the churrrr and phurrrr the song demands, the hook of the song that'll really catch on. A firecracker, this one.

'In the village of the eye, at night dreams come and visit.' Sublime words are turned into goosebumps as Rekha Bhardwaj takes them on in Ab Mujhe Koi, imparting just the right measures of languor and elegy. It's a slow song, one that spirals around the listener, making for a dreamy cocoon. A song, in short, to be listened to on loop.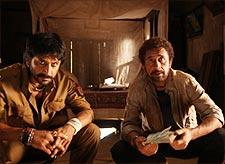 At first listen Badi Dheere Jali sounds purely classical, but one slowly discovers that Bhardwaj has tinkered enough with rhythm and progression to make this a true, effortless work of fusion. It's a 7-minute whopper, and Rekha takes it on again, another lyrical masterwork of dreams and flames, smoke and midnight.

Then come three remixes, of varying quality, one for Dil To Bachcha Hai and two for Ibn-E-Batuta, but really, just listen to the originals instead. Everything pales in comparison.

Gulzar saves all his best work for Bhardwaj, and the composer pays him back with one spectacular soundtrack after another. It's a partnership we're privileged to have, and in this album Bhardwaj totally takes a backseat and lets the words do the talking, so to speak.
And why not? We might have a few lyrical aristocrats, but there's only one Gul Czar. Salaam.

Rediff Rating: