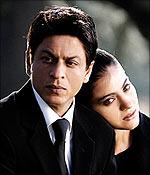 Emotions (and grandeur) are the backbone of Karan Johar's creations. Be it Kuch Kuch Hota Hai, Kabhi Khushi Kabhie Gham, Kabhie Alvida Naa Kehna, Kal Ho Naa Ho and now, My Name is Khan.

In his new film, again set in the US of A, however, the filmmaker's not glamourising the good life of a green card holder instead choosing to delve into prevalent ethnic disparities, post 9/11, through the curious case of his titular protagonist, Khan.

And to do so, he picks his favourite actors -- Shah Rukh Khan and Kajol -- while the musical troika of Shankar-Loy-Ehsaan along with lyricist Niranjan Iyengar is credited for its score.
Considering KJo's inclination towards sentimentality, the music bearing strong Sufi flavours though fluently melodious is feverishly emotional in content.

While that gives us a fair indication of what to expect from this big-budget drama, here's a look at its not-too-extensive soundtrack.

The opening track Sajda begins along the lines of Om Shanti Om's Jag soona soona lage. It is sung by Richa Sharma, Shankar Mahadevan and Rahat Fateh Ali Khan. A sense of breezy passion and poetic adulation run freely in the romance and reverence of the celebratory Sajda. Certainly, an upbeat, cheerful ditty but not entirely brand new in feel to overlook its passing resemblance to Shukran allah (Kurbaan) and Iktaara (Wake Up Sid) every now and then.

Despite its downcast texture and gloomy notes, there's nothing soppy about Adnan Sami, Shankar Mahadevan and Shreya Ghosal's fervently exalted, desperate pleas in Noor-e-khuda. Poignant and profound, it's not possible to remain unmoved by the heartfelt resonance of this composition. The crisp huskiness of Ustad Rashid Khan's intense baritone furiously chanting Allah hi rahem evokes a similar sort of reaction. The maestro, is at his captivating best in a rendition so flawless and trance-inducing.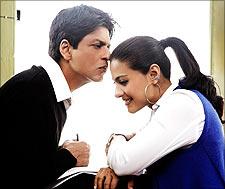 Breaking away from the previous songs' despondent mood, Shafqat Amanat Ali steps up to serenade in style with Tere naina. Even as Iyengar's uninspired poetry borderlines on contrived, S-E-L escalates the tone and arrangement with just enough zing and play to pass the muster.
A 'perfect-start-to-my-morning' brand of road song, Rang de packs in truckloads of spirit, zest and punch with its stirring fusion of rock, classical and Shankar Mahadevan's confident high-pitch while sending out the message of peace and love.
Pakistan's popular rock group, Strings, collaborates with Dharma Productions to deliver My Name is Khan's dramatic, enchanting but mostly larger-than-life theme. Apt fit for a Karan Johar film, isn't it?

As for the soundtrack, it's neither fancy nor groundbreaking but warm enough to make us like it.

Rediff Rating: