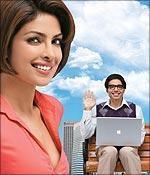 'I'm just a girl, but with you I feel like a princess. The truth is you're not a loser, I am,' she concludes remorsefully to get the attention of her wronged admirer by broadcasting her emotion-driven speech on multiple iMac screens of a sprawling electronic store.
Yes, Pyaar Impossible is exactly a film like that.
Mushy on the surface but too cordial to tackle the delicate imbalance of its subject -- beautiful girl+ geeky boy=not the ideal recipe for romance or the heartbreakingly exaggerated concept of Prince Charming.
Beauty is subjective, after all. Even the most gorgeous woman is deemed as plastic by some whilst an ordinary face is perceived as exotic. And wearing glasses does not make one a geek or more importantly, ugly. It's an obsolete stereotype, employed timelessly by cinema, which needs to die. It's long-due, seriously.
That out of the way, Pyaar Impossible isn't the kind of sensitive, layered romance between two unlikely individuals to summon such thoughts. It's, in fact, too harmlessly hollow to even think of going in this direction.
Rather it features an experiment wherein Priyanka Chopra's otherwise uber cool Alisha is forced to dress up in a dowdy jersey and cargo shorts, scruffy hair and needless to say a pair of thick glasses -- the kind Johnny Depp wears to look reflective (or maybe he's genuinely too worn out to wear contacts) and fish for a guy's number in Singapore's bustling Clarke Quay.
Though I personally felt she looked great even then, director Jugal Hansraj and writer Uday Chopra refuse to shoot down this hackneyed conditioning -- guys don't make passes at girls who wear glasses.
In Yashraj's -- click here to become a fan -- latest rom-com, everyone's affluent and sticks to a common vocabulary of Shut up, really?' 'Yeah, whatevers,' 'Like, you know? and 'Wow, sweet' as if they were in a Lindsay Lohan high school movie. In the beginning, it's pretty much all that.
Chopra plays Abhay -- the eternal loverboy harbouring secret feelings for the hottest girl in college, Alisha, even seven years after graduation. He's the perpetual good kid who calls daddy (Anupam Kher in the friendly father mold seldom goes wrong, does he?) for advice and goes out of his way to help.
And so, although he's flown from Mumbai to Singapore in search of a fraud (Dino Morea plays a suave fiend in well-tailored suits) who stole his software program, he ends up playing nanny to Alisha's precocious imp of a daughter, Tanya.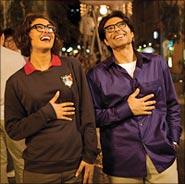 At some point you expect things to get a bit grown-up and complicated but they don't. Uday sticks to the format doing a selfless Surinder Sahni stripped off his gullible simplicity and earthy sentimentality. While he's not bad, his earnest smiles appear too laboured for us to give a damn about his underdog's cause or take Priyanka's helpless cries, 'I am divorced, single mother' too seriously especially when the latter, essaying a Public Relations head of a giant software corporation, dresses like a foxy catalogue model. No one wears beachwear to work. Not even in Singapore. Perhaps a Thai tradition? (Watch the movie, you'll know what I mean.)
Does that mean I recommend Pyaar Impossible? Well, like I said it's harmless. You gain nothing. You lose nothing. It's the kind of film, which could get over in five minutes if only Chopra 1 would let Chopra 2 finish his sentence. But no, Chopra 2 takes two and a half good hours to spill the beans leaving you with little besides a super hot Chopra 1 to admire.
Flashing those never-ending gams and a saucy attitude to stylish effect, the sassy actress, captured stunningly in Santosh Thundiyil's lenses, works up a chummy chemistry with her cheerful co-star and plays the modern, yummy mom with spirit, despite her vaguely-sketched character that contradicts between an airhead and realist.
Let down once again by a script that doesn't live up to her potential, Priyanka, to her credit, overcomes the dull spaces and predictable moments with her vibrant presence and coquettish enthusiasm.
Rediff Rating: