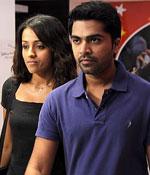 No other album has raised such high expectations or created quite this much frenzy among eager fans like Escape Artists' Motion Pictures' Vinnaithaandi Varuvaaya (Will You Cross the Skies for Me?).
The Tamil movie has everything going for it namely Gautam Menon as its director, Academy Award winner A R Rahman as its composer, and lyricists like Thamarai, Kalyani Menon and Kaithapram.
With Simbhu and Trisha as the lead pair, VTV has been making headlines ever since it was launched as a touching love story with music set to blitzkrieg everyone's heart.
Add to that is the fact this is the composer's return to Tamil after his Oscar success. So, does the collection live up to the hype? Let's find out.
A guitar strums lazily, reminding you very faintly of the old Wild West, and then morphs into something that might be an ancient native Indian chant -- that's Aaromale, sung by Alphonse. The lyrics in Malayalam seem to form a neat accompaniment to the general structure of the song. There's a soothing, gentle feel to the number, an experience that lets you sink into it. The song proper starts some time later, with a faint strain of violins somewhere far off. Even as Alphonse's voice rises to higher octaves, the refrain hugs the original depths, supplying a many-layered experience. An intense number, this.
You sit blinking when you listen to Anbil Avan as you're transported straight to a church choir until you realize that the song, rendered by Devan Ekambaram and Chinmayi, is actually a conglomerate that describes two kinds of religious weddings. The lyrics are all about eternal bonding, unending love and essentially the basics of wedding vows. It's got a peppy feel, full of happy anticipation, an eagerness to seek out the next heady experience, supplemented by synthesized instrumental arrangements. It seems a little like the Ibiza number -- but you're too carried away by its zeal to notice that until the end.
On a half romantic, half mournful note, with a flute interlude begins possibly the most publicized number of the album: Hosanna by Blaaze, Vijay Prakash and Suzanne. The musical arrangement somehow takes you right back to the early days of ARR until you realize which number the refrain, Hosanna, bears a striking resemblance to: Only Time, by Enya. The rap segment closely follows the tune as well; the lyrics celebrate the lover pining away for his beloved until his world shrinks to just her. There's no denying that it's romantic what with church bells pealing, complicated violin arrangements and a chorus which all reach a crescendo in the finale. It's a pleasant listen but still seems "inspired."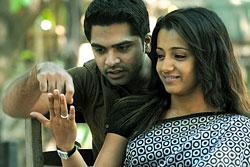 The violin rendition in the first few seconds of Kannukkul Kannai is enticing and the number itself, rendered by Naresh Iyer in a fast- and almost breathless manner that aims to bring the heady feeling of being in love. Aside from the violin segment, though, you feel like this is a musical arrangement you've heard often in Rahman's earlier albums, and faithfully mimicked by others following in his footsteps. In terms of ARR numbers, it's pretty run-of-the-mill.
Shreya Goshal's melodious voice begins Mannippaya with anguish, and it morphs gradually into a more gentle melody. Remorse and forgiveness are the prevalent themes of this number, and the soothing tones suit the sentiment, with ARR himself providing the accompaniment. Appealing, yes, but the lyrics have precedence in this song and the tune seems to have been composed to accommodate it. Even the flute segment reminds you of the signature tune of Titanic. The kural couplets that suddenly appear take you by surprise. They're a pleasant listen -- and then it's back to the meandering tune.
Kalyani Menon and Benny Dhayal begin Omanappenne, which seems like a fusion between western and classical music with a violin suddenly launching into a classical melody at certain points. And that's the essence of the whole song: a gentle composition which attempts to crossover from one genre to another, while a nadaswaram makes a not unwelcome appearance to add a different flavour to the proceedings. Having said that, we've heard many such numbers from ARR himself, and with more variation.
Vinnaithaandi Varuvaaya, accompanied by guitar strings and rendered by Karthik, comes in a different fashion altogether. It's slow, introspective, and the general tone doesn't seem to care much whether it hits the highs and lows of notes in an approved manner, which is actually a plus. The tune moves from contemplative to contentment to interrogative, and that seems to be the essence of the number itself: all the different emotions encompassed in one question.
It isn't possible to toss an opinion of an A R Rahman album based on just one listen. This composer has a talent for coming up with numbers that grow on you.
Lyricist Thamarai stands out, as well. Having said that, it doesn't look like VTV is one of her best efforts.
Blame the post-Oscar hype or the burden of too many projects but aside from a few moments of brilliant heights, ARR pretty much sticks to his proven template.
In this collection, he's gone more for the western crowd, it seems and there's little space for experimentation. A discerning music-lover might be left yearning for something more. For diehard ARR fans though, it's a musical treat.
Rediff Rating: