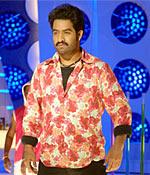 An NTR Jr film (Telugu) has to have at least half a dozen dances and loads of action. And surely NTR doesn't disappoint in the Vinayak directed Adurs.
He glides through his double role as effortlessly as he can which makes for an amazing watch. It's for him that one watches Adurs which is a tale oft seen before -- one of identical twins separated at birth. While one grows up in a Brahmin family, the other one stays with his mother. Coincidentally both are named Narasimha though one is also called Chari.
Adhurs, in short is a pucca masala concoction ideally suitable for the masses.
One of the twins (Chari) is stolen by Tanikella Bharani's mother (as her daughter-in-law gives birth to her third still born child) on the advice of the nurse. The other Narasimha grows up with his mother who is poor.
Chari is assistant priest to Brahmanandam and is involved in pujas, marriage, death ceremonies and other rituals. While his guru falls for Chandra (Nayanthara), she takes a liking to Chari (actually it's a case of mistaken identity). Narasimha likes Sheela and he wants to impress her dad (a cop played by Sayaji Shinde) by finishing off gangs, looting the ransom and taking a cut.
The film moves on with both the twins creating fun in their own way -- the mistaken identity angle continues making for much fun and laughter especially the scenes between Chari and Brahmandam.
There are baddies in the film and therefore twists too. However, the screenplay has its loopholes. For instance, it's not clear how Narasimha grows up with his mother. Also, the romance between the hero and the heroines is not built up well.
Vinayak has concentrated more on presentation resulting in a slick film with umpteen songs and dances. Just when you think there's going to be something interesting there's a song as a filler!
The film is mostly predictable with the second half kind of meandering unnecessarily. Also there doesn't seem to be a balance between the characterisation of both the twins. The production values like camera, editing, etc are, however noteworthy.
Performance-wise, NTR Jr takes the cake. He is simply marvellous as Chari, the Brahmin spouting loud dialogues while his Narasimha is tough yet more sober. NTR presents the contrasts well. Vinayak has been generous in his characterisation by giving the actor enough scope to perform.
Brahmanandam is hilarious. Mahesh Manjrekar, Ashish Vidyarthi and Sayaji Shinde as the baddies do their job well. Nasser appears in a cameo while Nayanthara has not dolled up much in this film. She sports traditional outfits too. But it's Sheela who outdoes Nayan in terms of skin show and oomph. Both the girls don't have much of roles to play, though.
All in all, Adhurs is NTR's show all the way!
Rediff Rating: