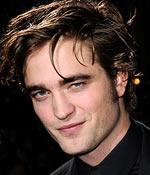 Rumours are abuzz that Twilight star Robert Pattinson could replace Tobey Maguire as the new Spider-Man in the next superhero film.
After three movies of playing the web-slinging superhero, Maguire and the franchise's director Sam Raimi are leaving.
And now, the movie series is going to be re-branded and will focus on Spider-Man during his time at high school when it is released in 2012.
Pattinson, 23, is best known for his role as vampire Edward Cullen in the hit movie series, reports The Daily Telegraph.
And he has been touted as a contender for the Spider-Man part along with Superbad actor Michael Cera.