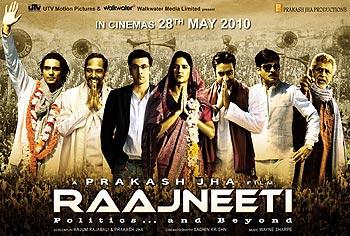 Sometimes watching an interestingly used ensemble cast laid out can be fascinating. And this proves to be the case with Prakash Jha's Rajneeti.
The promo opens with sweeping visuals of masses up in arms, first cheering than protesting and even revolting as the narrator tells us that in democracy, all is fair as contenders battle for the throne.
Then come the cast. Naseeruddin Shah, marching among the people, is described as a freedom fighter who suddenly retired. Ajay Devgn, glaring at the camera, is the underdog who shook the incumbent powers. Nana Patekar, greeting masses with a namaste from inside the car, is the strategic kingmaker who's never lifted a finger.
Next comes blonde American Sarah Thompson Kane, dubbed an innocent who lost everything. Arjun Rampal, gathering garlands hurled at him, is a contender who risked his life. Manoj Bajpai, on a dias, has inherited a political legacy, and believes it is his birthright.
Katrina Kaif, doing a Sonia act and looking striking in a sari, is called an icon who was forced to enter the battlefield. Ranbir Kapoor, watching television and exhaling smoke rings, is called the outsider who started by changing all the rules of the game.
Rajneeti is politics, where the only truth is victory. At any cost.
It's a hard hitting trailer, with Kaif looking more obviously exciting than any of the others. But one is sure Jha will give meaty roles all around.
Rajneeti hits theatres on May 28.