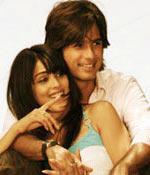 A nothing movie with flashes of heart, Chance Pe Dance is a slow, indulgent watch -- meant strictly for the Shahid Kapoor fan.
Judging from the way over a dozen woman gasped as he appeared shirtless (and, naturally, six-packed) in the new film, this is a growing tribe. And while Kapoor might be likable enough to pull off a role in a film that goes nowhere at all, he still doesn't have the screen presence to shoulder a film on his own.
Director Ken Ghosh makes him try, though, setting up convenient loops for Shahid to bound through: he acts, he grins, he dances. Subtle Shahid makes an appearance, as does overdone Shahid, sucking in his cheeks as he pirouettes in front of the mirror. The pretty Genelia D'Souza, pitched over the top in a very weakly written character, just jars.
This is the story of a Bollywood struggler, and it initially feels refreshing to see the leading man be this clueless and this complete a loser. Yet success, which originally evades him -- making him sob -- eventually falls into his lap, and there's no great conflict for this boy who seems wonderfully comfortable living in his car night after night. Clearly, the Mumbai Police loved Kaminey and are letting him be.
Points should then be awarded, I guess, for unpredictability. The struggler doesn't struggle, the heroine doesn't once have an emotional showdown with him, and the smarmy director steps warmly aside to allow the lad a chance -- after all, he spoke about his dearly departed mother so well, didn't he?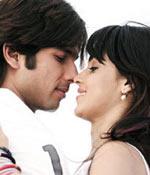 Instead, he walks into a woefully low-paying teaching job and takes a bunch of ill-choreographed children to dance-contest victory.
None of these departures from the conventional work at all, however, and we're served up a film that mostly refuses to amuse or to compel.
There are a few warm touches and Kapoor occasionally manages to sparkle. But there are far better places for a showreel than in a movie theatre.
It's mostly harmless, and certainly harebrained. Leave it to the Shahid-obsessed.
Rediff Rating: