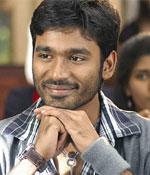 Romantic entertainers have always had a special place in the Tamil movie industry, which is why there are so many ridiculous movies abounding. Occasionally, though, you do get something that makes you smile genuinely and one of those is Gemini Film Circuit's Kutty, directed by Mithran A Jawahar, who's already given us the successful Yaaradi Nee Mohini.
This time around, it's the Tamil version of the Telugu hit Arya and a fun ride it is, with a loveable rascal the likes of which you see only in cinema.
Kutty's (Dhanush) mission in life, it seems, is to somehow gain the love of Geetha (Shriya Saran), who is a student and seems to be half in love with fellow student and rich guy Arjun (Sameer Dattani). Kutty, however, is nothing if not persistent, and begins a hard-headed campaign to gain her love. He accosts her in class, at the coffee-shop, the grounds and off-campus, makes philosophical points which are genuinely hilarious but confusing, confound and throws her so completely off balance. Geetha's bewilderment is evident but she's also torn about Arjun's feelings for her, and about how to handle the situation.
Meantime, Kutty manages to rile up Arjun as well, who's always in company of his cohorts headed by Srinath but it's always Arjun who ends up losing, somehow. Matters soon come to a head: Arjun can't stand it any more, Geetha is infuriated and depressed by the lewd comments on the notice-board, while Kutty gets beaten. And then comes the clincher: all three run away. Together.
It might seem the same old story on paper and it is, but Sukumar (who wrote and directed the original Telugu movie) is to be credited for the spontaneous dialogues, and appealing, racy screenplay. Thankfully, at least this director doesn't put women down. Despite the predictable end, you're glued to the screen because of the intriguing plot twists (which also helps you ignore plot-holes like beautiful shacks owned by penniless orphans, heroes whose karate moves knock out fifty men, etc).
Of course, the reason this paper-thin plot even works for viewers is Dhanush. The man's charisma has grown from strength to strength. He dances, sings, smiles, spouts dialogues with such casual abandon and grace that he keeps his audience in fits of laughter. Comedy comes easily to him and this time around, he even fights off the villains (headed by Vincent Ashokan) with panache (accompanied by screeches and screams of delirious approval from fans). But when he finally breaks down in front of Shriya, allowing his emotions to surface, you see the actor he is, and how much he is really capable of.
Shriya is the beautiful but clueless young girl pursued by so many men that you wonder if she carries a love potion or something around. She does try to act though, and wear nice costumes (as against the routine navel act), so this is something of a different outing for her. Sameer Dattani frowns most of the time and is routed by Dhanush so much that you end up feeling sorry for him. The rest comprising of Radha Ravi, Mayilsamy and Srinath have no part to play.
Balasubramaniyem's camera promises the lush sweetness of a romantic movie (especially evident in the lonely shack on the hill) and songs: DSP's numbers have a very strong Telugu feel: Nee Kadhalikkum Ponnu clicks because of the lyrics.
All in all, Kutty is fun, doesn't take itself too seriously and doesn't expect you to, either.
Rediff Rating: