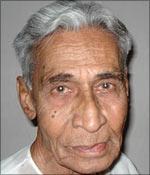 Cinematographer V K Murthy has been chosen for the Dada Saheb Phalke Award for the year 2008.
The award is conferred annually by the Government of India for outstanding contribution to films. This is the first time that a cinematographer has been selected for this award.
Murthy is credited with providing some of Indian cinema's most breathtaking visual moments in classics like Guru Dutt's Kagaz Ke Phool, Sahib Biwi Aur Ghulam, Baazi, Jaal, Chaudavin Ka Chand, Pyasa, 12 O'Clock and Ziddi. In fact, he has worked in most of Guru Dutt's movies.
He also partnered for Pakeezah and Razia Sultan.
His working life spans four long decades, from his early collaboration with Guru Dutt IN the 1950s to his work in Shyam Benegal's mega-serial Bharat Ek Khoj and one of the most acclaimed Kannada movies titled Hoova Hannu in 1993. 
He is a recipient of the IIFA Lifetime Achievement Award in Amsterdam in 2005.
Murthy will be the 56th recipient of the Dada Saheb Phalke Award. The President of India will confer the award, which carries a cash prize of Rs 10 lakh, a Swarna Kamal and a shawl.