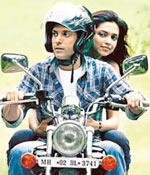 Sometimes a soundtrack is all about breeziness, and that seems to be the brief for Shankar-Ehsaan-Loy as they deliver an album of songs trying really hard to come across as real easy -- listening, that is.
The album kicks off with Hey Ya, a refreshing track by Shankar, Loy and Clinton Cerejo, and it starts by setting up a good, fingersnapping groove. The lyrics are standard hinglish-meets-bad r'n'b pap, but the song works nicely overall. The whoa-ho-ho vocals especially do well, making sure the end result is good, soft fun.
Next up is Uff Teri Ada, featuring Shankar along with Alyssa Mendonsa. The track takes a little while to get going, but Mendonsa's voice is perfectly suited for her rapid opening vocals, after which the dance-floor rhythm kicks in and stays solid. The chorus is punchy enough to keep the track danceable, and Mahadevan vocally provides the odd surprise to keep things interesting.
KK takes on Jaane Ye Kya Hua, a very pleasant harmonica-driven ballad doused in craving. The vocals gel quite strikingly well with Farhan Akhtar during the chorus, and even though KK doesn't quite sound like him, the feel is similar.
Kaisi Hai Ye Udaasi has Kailash Kher and Sukanya Purayastha manning the microphones. The song is mellow yet Kher sings it in his typically intense way, and it's a good thing Purayastha rescues it with a very listenable drawl much more appropriate to the subject.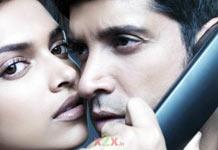 Then comes Karthik Calling Karthik, the movie's theme song predictably made out of beep-boob keypad tones and assorted phone sounds. The lyrics are intriguing, though.
Bring up the guitars. Karthik 2.0 is performed and composed by the Midival Punditz and Karsh Kale, and the track seems authentic even though it doesn't go anywhere beyond some standard guitar-riffs. Still, as a theme tune, this is sexier than the last track, and has the potential to be interestingly moulded into a film.
Then come the obligatory remixes. The KCK remix, however, by Kale and the Punditz, is actually an improvement on the original track, a woofer-thumping retake. The Hey Ya and Uff Teri Ada remixes are standard issue stuff, pale and needless attempts to spice up tracks that already kinda work.
Despite a couple of tracks that should do well -- the first two, and the Punditz stuff perhaps -- the soundtrack doesn't deliver anything exceptional. Still, it's perfectly pleasant -- and that is likely all it ever tried to be. Easy listening, remember?
Rediff Rating: