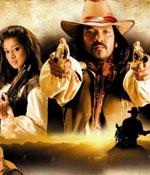 The very cover of the audio CD of Irumbukkottai Murattu Singam (The Fearsome Lion of Iron Fort) is delightful. It has a cute pop-up of the all the characters dressed in lurid cowboy fashion, holding guns, bouquets, straw hats, ponchos and what-have-you in all their glory. There's a bunch of stills to accompany it as well.
Helmed by Chimbudevan, who's known for his witty screenplays and sarcastic one-liners, the movie's got Raghava Lawrence playing the hero along with a slew of veterans. G V Prakashkumar tunes the music, while Vairamuthu has penned the lyrics. Here's what the album has to offer.
A thumping rhythm is interspersed with rap and random phrases, and thus begins Vellaikari Nee, rendered with spirit by NK Balaji, Ramya and Bhargavi. There's a good deal of North Indian flavour, with what seems like whip lashing at regular intervals. The song is drenched with more rap so much so that you can barely listen to the lyrics. While the charanam aims to deliver something different, it seems to meander aimlessly in all directions leaving you floundering in the aftermath.
What seems like the beginning of Hello Mr Edhitkatchi greets you in Nenjam Nenjam, complete with whistles, sax et al, mingling enthusiastically with G V Prakash Kumar, Harini and Sulabha's voices. This number reminds you of certain 60s club numbers, what with the piano medley, and heavy instrumentation, complete with trumpets and trombones. It certainly has a nostalgic effect but isn't nearly as melodious as it should be. 
Ilanthamizha has the sort of beginning you associate with rousing war compositions: thundering percussion, sharp rhythms and lyrics and then it all morphs into fun and games. With a Latino beat forming a fitting part of the proceedings, and then you have Tippu in charge of the vocals of the number, which seems to be the mandatory hero number, all about winning and enjoying life, albeit in a humorous vein. It's over before you can sink your teeth into it, though.
The War Theme, rendered by Rahul Nambiar who sounds as though he gnashed his teeth during the whole performance, seems to have had a blast. This one is fun, filled with an instrumental medley that's half James Bond, half African tribal music. With its attendant chorus and peppy beats and mandatory Wild West music, it's a neat track.
With a brisk jathi, classical humming and rhythm begins Kanna Nee Ennai, sung appropriately by Bombay Jayashree, accompanied by Navin Iyer and D A Srinivas. More or less a filmy classical number, it comes complete with a flute interlude, and a brisk mridangam accompaniment that somehow grabs your attention much more than the vocals. The tune itself is very familiar, and its Jayashree's melodious voice, particularly the finale, that keeps the number from descending into mediocrity.
And finally, Raja Singam, the cowboy number you've been waiting for, complete with death bells clanging, horse hooves thundering in your ears, menacing laughs and a punishing pace. "Shoot to Kill", yell the rappers in company of Rahul Nambiar, Shakthi and Bigg Nikk, and visions of men and women sporting boots and swapping smoking guns swim through your head. Presumably, this is the song that idolizes the titular character, and here, at last, there's the pep and enthusiasm you've been expecting all through the album.
IKMS's theme, like the War theme, has more going for it than the actual numbers itself. Echoing instruments remind you of the vast swathes of empty land, as the instrumental medley swiftly picks up pace. With a touch of the Westerns of yore, this one's also a pleasing listen.
Either the makers are going for a contemporary feel in a 17th century cowboy tale a la Marie Antoinette, or the effect is involuntary but if you were expecting a touch of the Wild West of yore, there's precious little of that here. No sunset songs, rambling philosophical discussions on life (funny or otherwise) or even a touch of the whimsical lives of cowboys.
In fact, this album has all of Tamil cinema's staples and follows set patterns; the theme tracks are the only ones that seem to actually belong to a Western.
Rediff Rating: