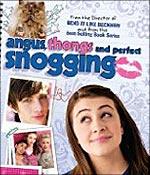 Some British humour scares Hollywood distributors who would rather risk the film on TV than have it released in movie theatres. Gurinder Chadha's delightful comedy, Angus, Thongs, & Perfect Snogging which has immense appeal to teens and the young at heart, is one such film.
It made an impressive $13 million (it was made for less than $8 million) in the United Kingdom and a few English-speaking countries in 2008. But in the US it debuted in on Nickelodeon on New Year's day and, not surprisingly, became a hit. And now on DVD, this coming of age film loaded with extras could become a hit across the globe.
The world of mouth could be very strong for the film that surely would pep up your weekend. But some of its British slang went over my head; some viewers may not get all its dialogue.
(The film is based on two popular British books by Louise Rennison; one of them had the title Angus, Thongs And Full Frontal Snogging. Chadha says she dropped the word frontal because when she sought permission to shoot the film on locations in Eastbourne officials there suspected she was making a porno film because we had 'thongs' as well as 'full frontal' in the title.
It was a different thing for the book to have a title with those words, she said but a film based on it was expected to reach many more millions, and hence the reluctance by the British to give the film a PG (parental guidance) certificate in the United Kingdom with the original. 'That meant our trailer couldn't be shown with Mamma Mia!,' she told the BBC, 'so we changed it.')
Though not as well-known as her Bride & Prejudice and Bend It Like Beckham, this is a no-nonsense fun film.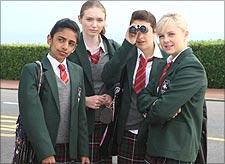 It revolves around Georgia (a delightful Georgia Groome who is there in practically every frame of the film) about to turn 15 and who sets her sights on the new guy at school, 'gorgeous sex-god' Robbie (Aaron Johnson). But Robbie is dating her arch rival, the blonde and seemingly perfect Lindsay. Georgia and her friends are not exactly the most popular kids in the school; on the other hand Lindsay is regarded as more mature. So Georgia has quite a bit of work to do if she wants to get Robbie for her and mark her 15th birthday in style.
Georgia is certainly not the giving up type. With her cat Angus and her girl posse, the Ace Gang by her side, she begins scheming to get Robbie and have the best birthday party ever.
Chadha's film, while being a genial comedy, also looks at the conflict between a well meaning but rebellious teenager and her parents.
The film was well received in England. 'It could have easily become just another Clueless clone -- its pop-kid soundtrack ever-so-carefully engineered -- but Chadha keeps matters diverting and funny, finding fresh air in her Eastbourne locations, and assembling a cast who really do resemble Best Friends Forever,' wrote The Telegraph, London. 'Accomplishing the difficult trick of being simultaneously teen-savvy and terrifically sweet, carried along on its director's usual generosity of spirit.'
Extras: Commentary with Gurinder and the Ace Gang Girls. Featurettes include First Kisses, Looking After Angus, and First Night Nerves. There are also nine deleted scenes but they are of minor nature.