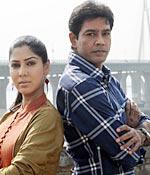 Sakshi Tanwar is back.
The actress best remembered for her role as Parvati in Kahani Ghar Ghar Ki, will be seen co-hosting Crime Patrol -- a new show on Sony whose focus is on crime against women, senior citizens and children -- with Anup Soni (of Balika Vadhu fame).
The show starts from January 26.
Sakshi Tanwar tells Rajul Hegde more about her role and life after Kahani Ghar Ghar Ki.
How satisfying is it to host a crime show after playing the lead in Kahani Ghar Ghar Ki?
Hosting is different from acting. People still call me Parvati and it is helping me a lot to connect with people whom I am meeting in the course of the show. I would love to help them on a personal level too.
You were a victim in Bhanwar, a crime show and now you are hosting one on similar lines...
Bhanwar was my first satellite show that happened in 1999. After 10 years I am getting a chance to host a similar show. I never imagined life would change so much for me. In Crime Patrol I am getting a chance to deal with real cases, see them from the police's point of view and not be judgmental about it. We present all the viewpoints.
Have you ever personally dealt with social problems?
Yes. My father was in the CBI [Central Bureau of Investigation] and always taught me to fight back. He said one thing that stuck in my mind and that is you should never come home crying. I follow his advice even today. During college I have come across a lot of eve-teasing but I have always fought back.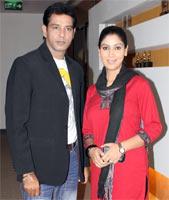 Where did you disappear after Kahani?
I did not want to work for some time after Kahani. I was fed of getting up early in the morning and being on my toes 24X7. I was determined to take a long break. I used all this time to grow professionally. I have been working as creative head for a show called Samman: Ek Adhikaron on DD [Doordrashan]. I can't tell you how wonderful it feels to be behind the camera. Knowing the scripting details and other technicalities is much more important than acting. I have been suggesting my friends to experience it once because there is so much more to learn here.
Did you miss being on TV?


Yes, but it's a phase and I'm done with it. You definitely get attached to a show after working for such a long period. But I left everything as soon as I packed up for the day. The same happened on the day when the show went off-air. Life moved on.
Do you watch TV?
Yes. I have seen a lot of passion and enthusiasm in many of the newcomers like Ratan Rajput of Agle Janam Mohe Bitiyan Hi Kijo, and Avika Gor and Vibha Anand of Balika Vadhu.
Why hasn't Ekta Kapoor offered you anything after Kahani?
I think you should ask Ekta this question [smiles].
Why aren't you doing any reality shows?
I was offered one but I couldn't see myself fitting into a reality show. I don't think I will ever do it.
What next?
I am doing a film, Saluun by Pritish Nandy Communications directed by Nikhil Bhagat, which will showcase me in a different avatar. I am playing a firebrand woman in the movie. It's a cameo but yet very prominent.