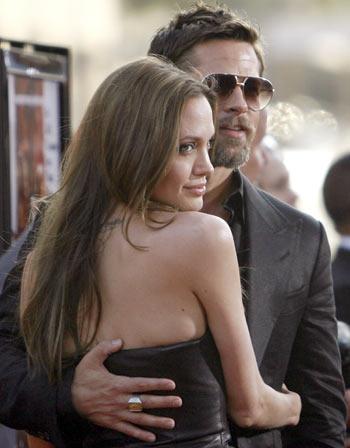 Hollywood star couple Brad Pitt and Angelina Jolie are not splitting, say sources close to them.
According to People magazine, people close to the Jolie-Pitt family have rubbished rumours, insisting they are 'totally false'.
'Everything is fine,' a source said.
British tabloid newspaper News of the World had reported that the couple, who met on the set of Mr and Mrs Smith in 2004, had reportedly signed a deal to split their US330 million dollars fortune.
The separation rumours took off after Pitt failed to attend Saturday's Screen Actors Guild Awards, where his film Inglourious Basterds picked up the award for best ensemble cast.
According to the rumours, the couple have apparently seen divorce lawyers and agreed to sign a 205- million-pound split deal. The pair will have joint custody of the kids, but all six could live full-time with the Original Sin actress.
'The document was signed in early January. Both Brad and Angelina had signed it,' the News of the World quoted a source as saying.
The insider added: 'The contract was like a tailor-made version of a pre-nuptial agreement except for an unmarried couple's split. It seemed clear they want the world to know they'll both play a part in the upbringing of the children. But Angelina will actually be the one who lives with them full-time. There's no date for when the contract would come into effect.
'But the paperwork is already organised for a break-up and for it to be as unmessy for them as possible. It is clear it's a case of when they break up rather than if.'
The lawyer in charge of the proceedings is reportedly based in Beverly Hills and is widely regarded as "the best in the business".
Jolie had said last month to German magazine Das Neue: 'Neither Brad nor I have ever claimed that living together means to be chained together. We make sure that we never restrict each other.
'I doubt that fidelity is absolutely essential for a relationship. It's worse to leave your partner and talk badly about him afterwards.'
Pitt started dating Jolie after splitting with Jennifer Aniston in January 2005.