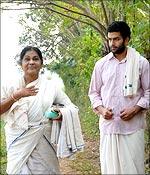 Watching Raj Nair's debut Malayalam film Punyam Aham starring Prithviraj and Samvrutha Sunil will leave you with a whole lot of symbolic references that stay in your mind but whose actual message eludes you.
Punyam Aham tells the story of Narayan Unni (Prithviraj), a youth who cannot reconcile to his mixed parentage -- Brahmin father and low caste mother. His father had returned to his staunch Brahminical world leaving Unni's mother and her children to fend for themselves. Unni also leaves on a voyage of self-discovery taking the path once trodden by his father and commits the same mistakes that his father committed en route.
The first stop he makes is Kuttanadu where he goes to trace his mother's roots. Kuttanadu was once a thriving agricultural region. Now it lay in ruins. There he stays with a mentally deranged woman played by KPAC Lalitha and her young daughter Jayashree (Samvrutha Sunil) who were once rich. But, now Jayashree has to entertain her own uncle in order to survive. The experiences that Unni goes through makes him see life in a new light.
There are a few sub-plots that show a society in perpetual turmoil in the name of progressive materialistic development that stamp on the rights of the powerless. Then there are people who exploit the booming tourism potential of the state like the Kathakali artist played by Nedumudi Venu and Georgekutty (Nishant Sagar) who do everything for the tourists from arranging house-boats to Kathakali performances.
This is the gist of the film you get after racking your brains for a long while. But it is the non-linear narrative, which is high on symbolic references, that go beyond the understanding of the audience.
Prithviraj as Unni looks demented, with contorted facial expressions, halting speech and limping gait. He must have been lured into this project by the promise of critical acclaim. Samvrutha looks glowing and regal, which is contradictory to her dismal living conditions. Was this intentional or accidental will remain a mystery for the viewer as lot of other things in this film. Veterans like Nedumudi Venu and KPAC Lalitha are dependable to say the least. Their lucid and effortless acting is the only entertaining part of this film.
Punyam Aham, may have been right conceptually but, it is reduced to being an intellectual hyperbole in execution.
Rediff Rating: