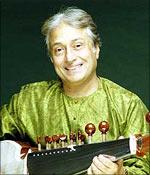 This is a rite of strings alright. Sarod maestro Ustad Amjad Ali Khan is nominated for a Grammy (Traditional World Music category) for his album Ancient Sounds in collaboration with Iraqi oud artiste Rahim Alhaj.
Ustadji, one of the most legendary exponents of Indian classical music, speaks to Patcy N about the Grammies and beyond.
How important is a Grammy for a legend like you?
It is disrespectful to dishonour any award. I think my award is important for my instrument because the sarod is still not as popular as the guitar or violin. The sitar is more popular in the western world because of the Beatles. My sons Amaan and Ayaan and I are trying our best to popularise the sarod since the last 20 years.
Will you be going for the Grammy award ceremony?
I had committed myself in Bangalore even before the Grammy nominations were announced. I will be performing on January 31 to raise funds for Bharathi Vidya Bhavan. So I won't be going even though I have been invited. I am sure my fellow musician Rahi AlHaj (Iraqi American oud musician and composer) and producer Doug Spencer will be attending. I hope our album receives the award.
If you win, how do you plan to celebrate?
Music is the celebration of life. I express my happiness and sorrows through music. And I will be doing that when the result comes.
Indian classical artists collaborating with foreign musicians seem to be a winning formula at foreign awards. Even the Vishwa Mohan Bhatt-Ry Cooder collaboration won a Grammy. Your Comments?
When I met Rahim AlHaj through a common friend in a studio in America, I requested him to play with me. At that time, I had no idea about the future of the album. It was just for the love and friendship between India and the Arab world. It was also to spread the message of love and peace internationally, as the world is suffering on account of destruction and hatred.
Education cannot create compassion and kindness. I think only music has connected the whole world because we have only seven notes -- Do, Re, Mi, Fa, So, La, Ti or Sa, Re, Ga, Ma, Pa, Da, Ni -- and we can communicate with anybody. At this age in my life, I am not into any kind of race or short cuts. I am grateful to God that the people of India and abroad have given me so much love, honour and awards. I am very happy, whether it is Grammy or any kind of award. International recognition is an honour for the country and for us.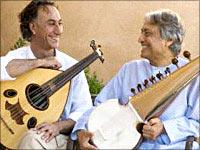 Do you think Indian Classical music is surviving on the life support from NRI's? Most Indian Classical musicians live half the year abroad. What can India do to preserve and promote its classical music within its own shores?
Because of economical crisis and problems of roti, kapda and makan, Indian people like to be entertained by the entertainment world -- laughter shows, television soaps and Bollywood.
Indian classical music was never for the masses; it's for those who have respect and love for our tradition and culture. People have great regard for classical musicians all over the world so most Indian classical musicians are busier performing abroad. There are concerts in India only between October to March, when everybody comes here.
What is your opinion on the future of Indian classical music? Is collaboration with foreign musicians and different genres the way to go?
The future seems to be bright despite the 200 television channels, which is a cultural aggression. On most of these channels, people are wearing western clothes -- they don't look like Indian channels. I feel sad about it. I feel every channel should represent India through costumes and music. It is our duty to take care of our identity. One has to earn money but you can't lose what Mahatma Gandhi and all those freedom fighters gave their lives for. If you see the Pakistani or Japanese channels, they look like Pakistani or Japanese channels. I wish one day Indian channels will understand and will try to preserve the Indian identity.
Collaboration is the only way to convey the message to the world because people are very interested in them. I compose symphony for the Scottish Chamber Orchestra. My father often said that one has to be complete musician and you can only be complete if you see good points in every genre of the world.
What kind of music do you listen to when you are on your own?
I listen to European classical music and symphony of Bach, Beethoven and Mozart because in our music we don't have harmonisation. I love the way 150 musicians connect and collectively produce beautiful music. Our orchestra is not of international level; that's why I love to listen to European classical music.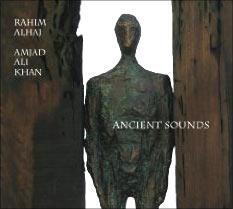 Your broken sarod was in the news recently. Has it shaken your faith in India's national carrier?
That's the reason I am in Kolkata. The man, who made my sarod, Hemandru Chandra Sen, passed away two weeks ago. His sons Ratan and Tapan have done a wonderful job. I am in Kolkata to conclude a prestigious music festival called Dover Lane. It is the oldest music festival of Bengal and happens every January. I conclude this festival every year. Now that my sarod has been repaired, this will be my first concert.
Which young musicians do you foresee carrying the torch of Indian classical music further?
I am very optimistic about the future of Indian classical music, including my sons Amaan and Ayaan, and all their contemporaries playing the sitar, tabla and vocals. We have great talent in south India too.
What do you think about Bollywood music, given that you have also composed scores for Hindi films?
I have composed songs written by Gulzar for the album Vadaa and Yaara. I composed for a television serial called Guftagu. I am open to interesting movies and musicals.