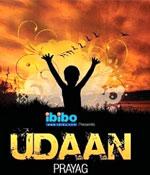 Prayag is a Hindi indie rock band (a Hindie band, we daresay?) that features Pranab Gohrain on vocals, Swapnil Bhumkar on bass, Virendra G Kaith on drums, Prasad Ruparel on guitars and rediff's own Sumit Bhattacharya on guitars and harmonica. Udaan is their debut album.

The resemblance ain't coincidental. Starting off with a wailing guitar reminiscent of Jimi Hendrix's take on the Star Spangled Banner, opening track Bas Karo cuts into a hard guitar take on Raghupati Raghav Raja Ram -- which would have sounded cliched if it didn't sound this solid. However, what this intro has to do with the rest of the song -- an innocuously angsty 'stop it' song with a nice chorus -- is yet to be understood. But the rough, anachronistic guitar riffs are undeniably the life of the track. Interesting.

There's a 70s metal hangover pervading the curiously written Langoor Chala Sheher Dekhne, with amusing words and drums -- bassist Swapnil, who has written the song, has given himself a few fun lines to play -- but the vocals are extremely flat, and could have used a lot more pizzazz. As a result, a potentially strong track feels longer than it is. Still, this could possibly grow on you.

The nice clean sound of Kal Akele feels refreshing, but the song itself is a standard-issue wistful ballad with nothing very new to offer.
Then comes Daud, derivative -- clearly Bhattacharya wants to pay tribute to each of his guitar gods with this first album -- but undeniably groovy, the track working neatly throughout despite the sophomoric lyrics.

The first time the vocals sound instantly engaging comes with the next track, Udaan. Some abrupt bridge-shifting ensures the track never quite feels predictable, and this title song has enough punch to catch on.
Up next, Kehdo Kabhi is probably the album's strongest track. The song's structure is finely nuanced -- it often feels like an acoustic version of a Bon Jovi power-ballad -- and even the soppy lyrics work because of an inherent sincerity to the feel of the track.

Raaste tries a bit too hard to be a serious rock song, but the track takes cross-genre excursions around other styles of rock, which makes it pretty listenable.

The album closes with Naya Savera, with a set of clean guitar lines solidly supporting the vocals as the other instruments come in, knowing their places well. It's a nice, Bollywood-friendly track, accessible and simple but featuring decidedly well-performed tight work from the band.

Overall, this is a pretty neat album that throws in the odd surprise. The lyrics aren't up to scratch, the vocals need work, but their overall sound is an authentic one and quite fun.
The desi rock scene is evolving right now, and while Prayag might not be the most radically original act you've heard, they're unlikely to disappoint musically. Udaan is a good first step from a band clearly capable of more.

Rediff Rating: