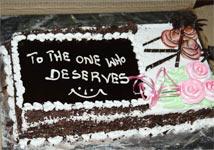 Call it an icing on the cake. Tamil director Bala's critically acclaimed Naan Kadavul has fetched him a National Award for Best Director.
The day after he won the most coveted award, his one-time assistant Sasikumar called on Bala and gifted a cake that read: To the one who deserves.
It was deserving, indeed. Sasikumar should know. It was on Bala's sets where he pruned his directorial skills, eventually enabling him make the classic film, Subramaniapuram. The message in the cake was a fitting tribute to his mentor.
But the award for Bala was no cakewalk. In the fray for Best Director award were stalwarts like Adoor Gopalakrishnan, Shyam Benegal, M S Sathyu and T V Chandran. Incidentally, Sasikumar was also in the competition with Subramaniapuram.
Then, what went in Bala's favour?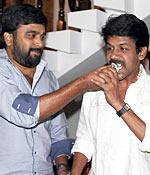 "Bala is unique in many ways. The way he changed Tamil cinema's character was commendable. Awards are not just reflections on the cinematic qualities but also the ability to change other filmmakers' thoughts and actions," says top Malayalam director Shaji N Karun, who headed the 2008 National Awards panel.
Shaji, usually reticent, was effusive on Bala. "Tamil was always rich in literature and music," he added. "But its cinema always mostly meant only for entertainment. There were many who tried for a change. Among the new generation of filmmakers, Bala leads the pack in bringing a change in Tamil cinema's outlook and approach. He is trying hard to give a new thought to Tamil cinema. That is a remarkable achievement itself."  
But despite the praise, Bala remains modest. As always.
"I would have been happier had lead actors Arya, Pooja and my cinematographer Arthur Wilson got National Awards," he said. "I expected them to win the top awards. It was they who took pains while shooting this film (the film was shot for almost three years)."
Yet, Bala says Naan Kadavul is his best work till date. "It is the work that has satisfied me the most. We have worked really hard for the film."
Compared to his previous three films, Naan Kadavul did not do well at the box office. But Bala is not rattled.
"I would not blame the audience. Naan Kadavul was too sensitive. Many people could not sit through the film. Even Ilayaraja sir told me that. So I can understand what ordinary people would have felt. But there are no regrets. That is the way I wanted the film to be shot. The National Award was reassurance to my conviction," he said.
"It was a tough subject to deal with," Shaji said. "Bala has deftly handled the film. Frankly, I never expected a film like Naan Kadavul from Tamil. That shows how different Bala is in his thinking and approach."
Bala will begin shooting his next film Avan Ivan in the second week of February.