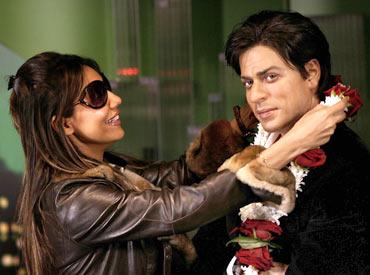 Shah Rukh Khan's lifelike wax figure was reportedly unveiled at the renowned Madame Tussauds Wax Museum in Hollywood on Friday.
The 44-year-old is the first Bollywood star to be inducted into this museum, which boasts of wax figures of celebrities like Audrey Hepburn, Clark Gable, Jennifer Lopez, Nicole Kidman, Johnny Depp, Alfred Hitchcock, Steven Spielberg, Beyonce and David Beckham.
The museum calls Shah Rukh's induction as 'historic addition' and adds that it 'symbolises a coming together of the world's two great film centres, Hollywood and Bollywood'.
Shah Rukh was named by Newsweek magazine as one of the 50 most powerful people in the world.
The unveiling on Friday was reportedly accompanied by a performance of America's Bollywood dance troupe 'Ishaara', a recent America's Got Talent contender.
Image: An archive picture of Gauri Khan standing next to the waxwork model of her husband Shah Rukh, at Madame Tussauds in London. Photograph: Kieran Doherty/Reuters