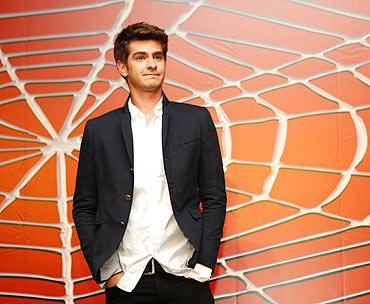 Rediff.com movie critic Raja Sen can breathe a little easier tonight, knowing that Twilight superstar Robert Pattinson will NOT be cast as the next Spider-Man.
Instead, that honour falls on 26-year-old US-born, UK-raised actor Andrew Garfield, who will take over from American Tobey Maguire.
With three blockbuster Spidey movies to release last decade, Maguire steered the franchise -- and its lead character Peter Parker/Spiderman -- from dormancy and obscurity to its present popularity. 
Given some of the big names floating around as prospects, including the box office-conquering Pattinson, Garfield comes as a bit of a surprise choice.
His credits include last year's Heath Ledger-film, The Imaginarium of Doctor Parnassus and director David Fincher's upcoming The Social Network, about the founders of Facebook.
The next Spider-Man film, as-yet-untitled, begins shooting in December, with Marc Webb (500) Days of Summer) taking over the director's chair from Sam Raimi.
Reports said story and scheduling differences were to blame for the departure of Maguire and Raimi from the blockbuster series.
'Though his name may be new to many, those who know this young actor's work understand his extraordinary talents,' Webb, discussing Garfield, told The Telegraph. 'He has a rare combination of intelligence, wit, and humanity. Mark my words: you will love Andrew Garfield as Peter Parker.'
The new film, to be shot in 3-D, will focus on a younger Peter Parker, a decidedly average boy who gains superpowers after he's bitten by a radioactive spider.
Image: Andrew Garfield poses in Cancun, Mexico on Thursday.
Photograph: Gerardo Garcia/Reuters