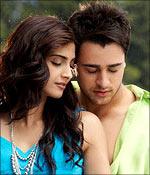 Sukanya Verma reviews I Hate Luv Storys.
Chemistry is a phenomenal element. Its beguiling mystique and extraordinary body is all the more fascinating when it unfolds through a rare, fruitful connection between two never-before-seen-together artists on celluloid.
And then, with every subsequent film, it flowers into a handsome picture of larger-than-life togetherness, which the audience loves to absorb in every phase and capacity.
Shah Rukh Khan and Kajol are the undisputed champs of this peculiarity. Premature as it may sound, Imran Khan and Sonam Kapoor, too, have the goods to follow suit.
The duo radiates a deliciously delicate vibe around each other, which is far too superior for first timer Punit Malhotra's inspired yet inexperienced direction to exploit fully.
Like his leading man Jay-not-Jai Dhingra (Khan) who's obsessed with 'cool,' Punit works overtime on constructing a hip image of young mindsets on a striking albeit superficial level.
Sure, the luminous, prop-filled frames and gorgeous people (including Imran's real-life fiancee Avantika in a blink-and-miss cameo) featured inside them are all very dandy (DOP Ayananka Bose is his usual impressive self) -- it's a Dharma production after all, we'd be heartbroken if there wasn't any eye-candy -- but the presence of an actual storyline wouldn't hurt.
Instead this tweet-length plot, spruced up by Vishal-Shekhar's vivacious soundtrack is overly concerned on highlighting why the commitment-phobic Jay is hell bent on rejecting every romantic stereotype in the Chopra-Johar-Akhtar book by announcing his grammatically-challenged dictum -- I Hate Luv Storys in every given sentence.
Now I don't care if you name your movie Bottle Gourd as long as it makes wee bit of sense. Unless, of course, the poor spellings here stand as a modern-day metaphor for the vain, texting generation?
In a way, that's precisely what it is. IHLS reflects the psyche of a creative who's grown up on Friends and 90's-post millennium city-slick Bollywood romances like Dilwale Dulhania Le Jayenge, Kuch Kuch Hota Hai, Dil Chahta Hai, Dil To Pagal Hai, Kal Ho Naa Ho and Hum Tum.
Doing a Farah Khan with half the humour or cheek, Punit employs these movies both as reference points as well as subjects to parody. Being the greatest fanboy on earth, however, is pretty pointless if it doesn't get translated into a crisp narrative and crunchy dialogues -- issues that plague IHLS till almost pre-interval.
Fortunately, damage control appears in the form of funny man Kavin Dave's extended screen time as the scornful Hobbes to Jay's Calvin. The roly-poly guy best-known for his audacious Sprite commercials steals the show with his crackling one-liners.
The young filmmaker's mettle comes out in his execution of the tender moments of conflict and despair between the film's lead pair. Truth be told, it's the dynamite equation between Jay and his Simran (Sonam A Kapoor. Yes, she comes with an A now as the opening credits reveal) that keeps its viewer in enthusiasm-mode despite the glaring predictability.
A sloppy voice-over narrative from the onset ensures there's no scope for any remote upsets or surprises for us to look out for. Then again, you can't hold that against a caper that celebrates the impact of romantic Bollywood cliches on the dating culture in all its dramatic glory.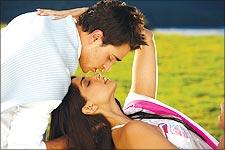 Many a times, it works too. One of the finest scenes in the film is when Sonam experiences an 'I feel like a fool' moment reminiscent of Preity Zinta in Kal Ho Naa Ho, replete with a red dress and red roses. It could've been seriously cheesy instead it's spontaneous, genuine and aww-inducingly vulnerable.
That's the deal with Sonam too. Her Simran is the textbook romantic -- Eric Segal, flower power, plush toys, hearts and candy, reds and pinks, Valentine's Day 24/7 mush-much. All this in addition to her soft-focus gaze and tinkling laughter makes her the quintessential Yashraj heroine except she dislikes white. It's a strictly one-dimensional character but Sonam challenges its possibilities to admirable results. An exceptional actress at all times, she gets into Simran's head lending nuances of a hesitant child and defensive woman making it at once real and relatable.
Too bad Sammir Dattani as her wardrobe-coordinated boyfriend Raj doesn't quite lift his deliberately caricaturish part above the written. Nor does the oft-temperamental script render him enough importance to care.
Brazilian beauty Bruna Abdullah fares even worse. Barring her obvious proficiency at looking hot, she doesn't even have a real role. Sorry, shrieking doesn't count.
Unlike Jaane Tu...Yaa Jaane Naa's Jai, Imran Khan gives up his softie ways to portray an impudent, petulant brat with truckloads of photogenic charm and disarming nonchalance. Playing the kind of character that has contributed generously in elevating Saif Ali Khan's career graph, Imran reiterates his flair and range for rom-coms with this one.
But, like I mentioned earlier, it's Imran and Sonam's collective persona and their free-flowing chemistry that makes all the difference. Although the pair deserve better than an amateurishly written romance to scoop out their terrific potential as a combination. I Hate Luv Storys is, at best, a promising even if imperfect indication of things to come in the direction.  
Rediff Rating: