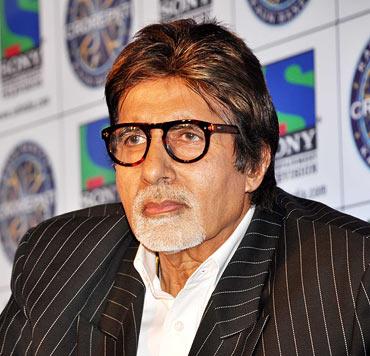 Amitabh Bachchan is back as host for the fourth season of Kaun Banega Crorepati on Sony Entertainment Television.
The actor hosted the hugely popular show during its first season, while the second season was scrapped midway after he fell ill. The third season was hosted by Shah Rukh Khan. 
According to the channel, the format for the fourth season will undergo a few changes, the details of which will be divulged later. Speculation was rife that Sony, which bought the rights of the show from Star Plus, would rope in either Aamir Khan or Anil Kapoor to host it. But the channel said it always wanted Big B.
 
On being named host, Bachchan said, "Kaun Banega Crorepati is a good television habit. It brings the whole family together and the knowledge is shared in the most interesting and entertaining way.
"Nobody came to me for the third season," he added. "But I think Shah Rukh did a great job as a host on KBC. I don't understand how TRPs (Target Rating Point) works, but it is a great honour and a pleasure to be associated with the show again."
 
On being asked how he will manage to do television alongside his busy film schedule, Bachchan responded, "I don't have any films at the moment. I want to concentrate on television. So there's no problem of schedule."
 
The superstar has promised the audiences he will appear in a new avatar, with reduced weight and new spectacles.
 
Finally, when asked to comment on his blog and Twitter posts that Raavan's failure was due to poor editing, Bachchan jokingly replied, "I will put this as a question on KBC and give out four options."
 
Though the channel is yet to announce the dates, the show is expected to air by end of the year. Plans are on to open phone lines for the participants next month.
Photograph: Pradeep Bandekar