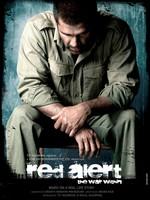 Abhishek Mande reviews Red Alert: The War Within.
Subtlety is not a virtue Bollywood can boast of. The industry thrives on boisterous dialogues, exaggerated stories and of course stereotype/cliched characters with a fixed, tired set of histrionic responses to every situation.
Red Alert: The War Within, starring Suniel Shetty, Sameera Reddy, Ayesha Dharker, Seema Biswas, Ashish Vidyarthi, Vinod Khanna, Gulshan Grover and Naseeruddin Shah -- suffers from all these three ills. The film also naively seeks to resolve the decades-old Naxal movement in our country.
The story of Red Alert is inspired by a true incident which does tug at your heartstrings at points. Narsimha (Suniel Shetty),s a villager from Andhra Pradesh, is trying to make ends meet. He supplies food to a bunch of people he hasn't met and doesn't realise are Naxals.
When he does meet them, by sheer chance, he's neck deep in trouble. Trapped in a round of crossfire between the Naxals and the police, Narsimha is forced to stay back at a Naxal camp and cook for them and train with the outlaws.
In return, his family's needs are taken care of (though strangely we aren't entirely shown how).
Caught between two worlds, Narsimha blindly follows orders. When he's asked to shoot he shoots; when told to kill he kills.
It is during one such killing that reality hits him and our ever-questioning hero decides to take matters in his hands.
Narsimha, though, is no reckless Jason Bourne. He's just another guy off the streets who's lost everything he's loved and will do anything to get it back
Suniel Shetty portrays this despair very effectively -- at least for most of the first half.
Then, quite like the script and the narrative, Shetty's restrained performance begins to taste like the gum that's lost its flavour, when it begins to lack depth.
Director Anant Narayan Mahadevan (of Victoria No. 203, Dil Vil Pyar Vyar fame)  however insists on making us chew on this, never once seeking to engage the characters in a serious ideological debate that the issue so sorely needs today.
Instead we are witness to some amateur camera movements (K Rajkumar), second-rate action sequences (Allan Amin) and a lot of screaming and shouting (by a handful of extras)
But perhaps Red Alert's tragic flaw is the over-simplified resolution of strife that is as old as our nation itself.
The climax to which the action builds up for over two hours is not just cinematically weak but also laughably implausible.
Having said that, you cannot entirely write off the efforts of some people associated with the film. For a brief while you get a glimpse of Suniel Shetty the actor who is a far cry from the star who often plays the bumbling buffoon.
Sameera Reddy too gets a fair shot at performing amidst stalwarts like Seema Biswas and Ayesha Dharker and, to be fair,  she tries to maximise to her potential.
If there is someone who must be blamed, it is the director. Mahadevan reduces a stellar cast to mere cardboard cutouts and a burning socio-political issue into a tale with a happily-ever-after ending.
You cannot take away the fact that Mahadevan had his heart in the right place while making the movie. Sadly, good intentions rarely make great films.
Also read Vinod Khanna: 'The government is not giving Naxals a life of dignity'