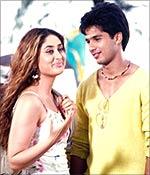 Sukanya Verma Reviews Milenge Milenge
Long, long ago when Shahid Kapoor hadn't beefed up his Kaminey body and Kareena Kapoor was oblivious to size zero, producer Boney Kapoor and director Satish Kaushik discovered the DVD of John Cusack-Kate Beckinsale-starrer Serendipity. 

And they said to each other, 'Chal, Bebo-Shasha ko leke picture banate hain.'

Okay so that's a loose account of what really transpired. But you get the drift. 
Only, unfortunately for the two not new to this stuck-in-the-can syndrome (remember Prem and Roop Ki Rani Choron Ka Raja?), this intended quickie gets indefinitely delayed for half-a-decade or so.

Meanwhile, a lot has changed and by that I don't mean the personal equation between the leads of this ironically-titled Milenge Milenge.

Post-Jab We Met/ Kaminey, Shahid has established his credibility as a performer with reasonable box office appeal whereas Kareena (whose acting talents were never in question) is a reigning Bollywood star freed of those ghastly blonde highlights and emblem of chic sophistication. 

Milenge Milenge, akin to those awkward growing-up photographs we often bury into obscure corners of the closet, is an embarrassing reminder of the time before that. 

So in this time-travel of the unintentional kind, Kaushik draws a serendipitous connection between the denizens of Vasant Kunj and Vasant Vihar, those are posh South Delhi neighbourhoods in case you care. If not, then you probably also don't give a damn about Shahid's drag queen act or his Rajendra Kumar-reminiscent archaic dialogues 'Mujhe apni safai pesh karne ka ek mauka bhi nahi diya' or Kareena sashaying in garish Aitraaz leftovers, their rendezvous against a worn-out Bangkok and jaded Dubai or how he employs the oldest Bollywood trick of stealing woo-friendly notes from her private diary or their relentless thesaurus-building exercise over fate, destiny, taqdeer, kismet, et al.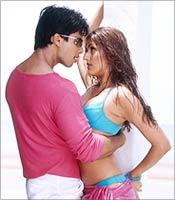 Unlike the Hollywood original which essentially highlights the efficacy of romantic impulses and the contribution of New York City in amplifying it to a dramatic scale, Milenge Milenge concocts a hotchpotch of contrived situations and tedious stock characters to drive the point. And that means enduring slobbering daddies, blabbering canteen chiefs, pestering, jobless pals, excitable Parsi aunties, cacophonous store managers and garrulous book-selling chacha types.

Now this extent of hoo-ha would have probably worked during the bell-bottoms era when Rishi Kapoor romanced Neetu Singh and RD Burman's zingy chartbusters worked its magic on the side. But the Facebook generation simply has no patience for this Kaushik-style pandemonium featuring Himesh Reshammiya's blandest soundtrack ever. Nor are they hung up on looking for some forced history in an erstwhile 'It' couple that has moved on and away even as the pressing promos would like you to believe otherwise. 

For all it's worth, Kareena delivers a subdued portrayal of a simple girl looking for a fairy-tale. Even when a scene reeks of incredulity, like when she agrees to her dreadfully bad co-star Panini Raaj Kumar's marriage proposal, her graceful conviction is the only thing that holds you from breaking into a maniacal giggle.

As for the other Kapoor, it's hard to enjoy this inadvertent souvenir of ineptitude after having already glimpsed into a future of penetrating performances. 

There's nostalgia and there are forgotten chapters. And so, unless you're the type that still harbours ridiculous hopes of a Jennifer Aniston-Brad Pitt reunion, Milenge Milenge will strike you as obsolete and expendable as Kareena's Nokia handset in the movie. 

Rediff Rating: