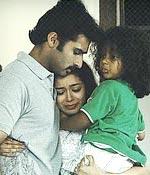 A word of caution to those going to watch Anandhapurathu Veedu, made by director Naga, who is known to make some of the best horror Tamil serials on television. There is nothing horrifying about the paranormal activity in this particular house.
In fact, judging by the rather juvenile CGI that greet you in the very first minutes of the movie, you are likely to be disappointed by this S Picture's production.
But it's not all that bad if you give the movie and director some time to find their feet. It happens once the cute little family from Chennai camp in at their ancestral home, a beautiful residence straight out of pretty Kerala.
Bala (Nandha) and Revathy (Chaya Singh, after a hiatus) are a modern couple -- he's into leather exports; she wears slacks and neat housecoats at home. They have an incredibly cute son, Anand (Master Aryan). The trio have packed up and left stifling Chennai for a break, while Mayilamma (Kalairani) their helpful maid, prepares the house for their stay.
Only she knows, however, that the house is haunted. Soon, she's not the only one. Anand sees and hears things too but he cannot speak as yet. To him, the house is a bizarre and endearing collection of marvels: drawers open by themselves, chairs rock, swings move… The little boy takes it all in with a wide-eyed stare. To him, it's too good to be true; he isn't old enough to distrust the happenings and is fascinated by the weird occurrences.
Not so his parents. Bala is harassed by an unknown biker, while Revathy begins to suspect that all might not be well with the house. She also has a claustrophobic attack. Family friend and Bala's business partner Jeeva arrives soon, and the seemingly idyllic situation starts deteriorating -- but not in a way you would expect.
Nandha does very well as the worried husband and father. Chaya Singh disappoints despite having a solid role. Something in her performance and dialogue-delivery doesn't quite make you sink into the story.
Master Aryan is a marvelous find. The kid looks like Jayden Smith from The Pursuit of Happyness, with his curly hair sticking out in a halo, and an adorable face that changes expressions in the blink of an eye. He barely has any dialogue but just watching him is pure joy. His antics with the friendly poltergeists evoke such warmth that he is really the star of the show.
The rest of the cast performs well, adding some colour to the plot.
Arun Mani Palani's camerawork is quite good; Kishore's editing is slick and neat. Ramesh Krishna's music stays true to the genre but it does not sound creepy. It is not very brilliant as none of the numbers stay with you.
Considering that this is the man who redefined horror in Tamil television with Marmadesam et al, this is rather dull fare. Instead of scaring you, Naga takes a warm-fuzzy route. There's nothing inherently wrong with it or the dialogues (co-written with Indira Parthasarathy and Sharath Haridasan). You wish you'd gotten a lot more thrills and chills.
The film is perfect for children with its mild twists, simple CGI (that looks straight out of a serial) and feel-good ending.
Rediff Rating: