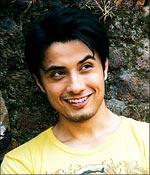 Pakistani singer Ali Zafar is all set to turn lead actor in this week's release, Tere Bin Laden. Directed by debutant Abhishek Sharma, the film takes a comical look at the world's most wanted terrorist Osama Bin Laden.
Zafar tells us what to expect.
What made you sign up Tere Bin Laden?
Abhishek Sharma and I met through a common friend. We discussed the project and liked each other. So I decided to do the film.
I was very cautious when I signed the film. I didn't want to hurt anyone's feelings or prove detrimental. When I read the script, I realised it was a hilarious comedy. 
Why acting?
I used to act on and off before singing happened. I was a model and did television for a while. After that, I took to music videos.
How has Mumbai treated you?
I have been visiting Mumbai for the past five-six years. India has a bigger audience. Indians are very welcoming and treat you very well. India offers more fame and success.
Did you ever face any problem in India because you were a Pakistani?
No. I have always had a great time here. People have accepted me with open arms. I think such is the case with other Pakistani talent like Atif Aslam.
What is the film about?
It is a bizarre madcap comedy. I play a journalist, who desperately wants to go to the US for better prospects. But he's having visa problems as this is just after 9/11. He finally finds someone, who looks like Osama Bin Laden and makes a fake video with him portraying him as Osama and sends it to the US.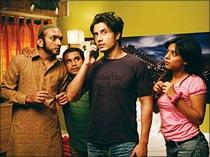 Being a singer, have you sung or composed for the film?
I like to compose, arrange and sing my own songs in my albums. Here, the music is composed by Shankar-Ehsaan-Loy and they have done a wonderful job. I have sung two songs -- I love Amrika and Ullu da Patta.
How was it working in the film?
I enjoyed the process. I believe that it is the destiny and not the journey that matters. It feels weird to see my own pictures on posters but nice. I feel a lot more responsible because I'm carrying the film on my shoulders. I played my character naturally and tried my best not to overdo it. It is a very unconventional character.
Since you have experience in facing the camera, did you give in your inputs to Abhishek while directing?
No. I don't believe in interfering with someone's creative work. I wouldn't like if someone interfered in my space and told me what to do.
What is your favourite part of the film?
During the climax of the film, I have a scene with (theatre guru) Barry John. I like that because you know what kind of a tutor Barry is and to share screen space with him feels nice.
Do you fear certain political parties might create a problem for the release of the film?
What are you talking about? I believe there are more good than bad people here. India is known for its hospitality and rationality. They respect every artist and I am sure the film will release without any problems.
Has singing taken a backseat to acting?
No. I will soon come out with my third album Jhoom.