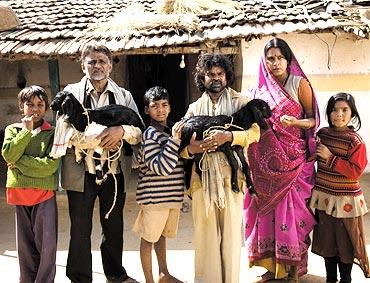 The singers of Mehangai Daayan Khaye Jaat Hai from Aamir Khan's home production Peepli Live are unhappy with the amount paid for their work. They say that they have been invited by the actor to Mumbai so that the matter can be resolved.
Gayaprasad Prajapati, a teacher from the village Badwai in Madhya Pradesh, has penned the track and sung it along with his troupe.
The song got attention after opposition parties expressed a desire to use it in the wake of inflation, but Aamir refused the offer.
"The crew had come here for shooting and said they want to use the song which I perform with my troupe. My 11 singers and I were given only Rs 1,100. I feel that it's not a justified amount to be given to a musician, and that's why I have raised my voice against it. We want to be paid Rs 11 lakh," said Prajapati.
Prajapati said that Aamir has now asked him to come to Mumbai, so that the issue can be resolved. 'Aamir wants to meet us now. We were supposed to go on July 11 but there was non-availability of tickets. Now we are going today, lets see what will Aamir say. We are hopeful he will give us our due payment,' he said. He said that there are 11 people in his troupe and they will divide the money amongst themselves.
Written and directed by debutante Anusha Rizvi, the film is a satire on the farmers' suicides and subsequent media and political response in the country. The people of the village fighting against poverty entertain themselves with music and dance on the streets. The movie, made on a budget of Rs 6 crores, was mostly shot in Badwai. Peepli Live stars Omkar Das Manikpuri, Raghuvir Yadav, Nawazuddin Siddiqui, Naseeruddin Shah and Malaika Shenoy in the main roles.
This is not the first time that a controversy has sprung up regarding a folk musician not getting due credit for his work. Earlier it was alleged that lyricist Prasoon Joshi had stolen the lyrics of the Delhi-6 song Genda Phool from Chhattisgarhi poet Gangaraam Shivre's song Saas Gaari Det, Nanad Muha Lene, Devar Babu Mor'. The song had been sung earlier by Bhulwa Ram Yadav and the Joshi sisters, before becoming a hit Bollywood number.