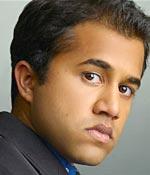 Omi Vaidya, who became famous as the nerdy Chatur Ramalingam in the blockbuster 3 Idiots, has been roped in to host the second season of children's music reality show Chhote Ustaad.
The show will bring together talent from India and Pakistan, and they will be judged by singers Sonu Niigaam and Rahat Fateh Ali Khan.
Chhote Ustaad, which goes on air on July 24, is not the only thing keeping Omi busy. He has also bagged Madhur Bhandarkar's Dil To Bachcha Hai Jee and Abbas-Mustan's remake of the Hollywood film The Italian Job.
He fills in Rajul Hegde about his life and work.
How is life post 3 idiots?
It's wonderful when people recognise your talent. It's really gratifying and now, expectations are very high from me. So I have to work double to satisfy everyone.
Are you in touch with the 3 Idiots team?
Yes, I am in touch with them.
Why did you take up a television show when you are doing so well in films?
I am doing both. It's not like one is better than the other. Chhote Ustaad has an interesting message. It's not about Pakistanis competing with Indians. It brings them together through children and music. I am sure everyone will enjoy it.
Any specific advice for the contestants?
Don't be shy or embarrassed in what you do. Look at me, my Hindi is not so good, I come from a different country [Vaidya is born and brought up in the US] and I am still getting work. Give the best and you will succeed.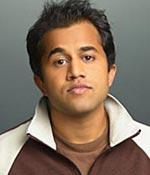 Are you going to speak in shudh Hindi, English or Hinglish?
If you want shudh Hindi, then I will have to get the dubbing done (smiles). I will speak in my Hindi. It's getting better everyday. I'm taking two Hindi classes! Hopefully, it will become shudh some day but right now its buddh (smiles). This is a good opportunity for me to learn Hindi too and have fun.
As a host, what will you bring to the table?
Apart from 'shudd' and cute Hindi, there will be a lot of excitement. Plus, we will have fun with the judges.
I enjoy hosting because you get instant gratification. When you look at the audience, they immediately laugh. You don't have to wait for six months for the audience to laugh. There is a lot of fun especially with kids because you don't know what they will say.
As a child, I wanted to be a performer but unfortunately, I wasn't the best dancer or singer. So I started doing comedy. I continued comedy not because I wanted something in life but because I really enjoyed it.
Do you follow Indian television?
Do I follow the soaps? Saas Bahu? No, not as much as music shows because I enjoy music. I stay away from shows that make you cry.
Can you talk about your films?
Madhur's film has Ajay Devgn, Emraan Hashmi and me. It's about dating, relationships in the metros and how people cope with love and heartbreaks.
If you want to know the about Abbas Mustan's movie, watch Italain Job. But Abbas-Mustan have promised that there are going to be a lot of twists and turns in the Bollywood version. There is some comedy too.
Are you choosy about your films?
Yes, that's why I am doing just two films and this TV show. I want to do good work.