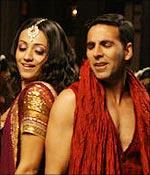 He may be mocking the social evil of corruption in his new film Khatta Meetha but Bollywood's very own Khiladi, Akshay Kumar admits to paying bribe once.
Akshay, who has teamed up with filmmaker Priyadarshan for the sixth time with Khatta Meetha, says that the film is a comedy with a cause which is hatke (different) from their earlier collaborations. "Our country is said to be a growing superpower with the fastest growing economy but still we do not have good roads because corruption has seeped deep in our system," Akshay, who plays the role of a road contractor in the film, said.
When asked if there was any occasion where the actor had to pass money under the table, Akshay admitted, "Yeah... it was way back when I had to get my car's registration number that I had to bribe."
But the 42-year-old actor added that he would not do it again as he is scared of getting caught the next time. The star, who is also producing Khatta Meetha, would prefer to make films and speak about such issues. Akshay also chose to ignore the recent controversy where he was called a 'jackass' by a film critic for posing with ailing cartoonist R K Laxman as a publicity gimmick for Khatta Meetha at a Mumbai hospital.
"It is all part of so called journalism. Whether it is good or bad, it is your opinion. I rather choose to ignore it and not react," Akshay said. Akshay was thankful to Bollywood megastar Amitabh Bachchan, who had taken offence regarding the usage of the word and had reacted on microblogging site Twitter.
The actor silenced another controversy regarding the track Bullshit in Khatta Meetha which takes potshots at corrupt politicians. "No one has come to us and said anything about the song as yet. We are not taking names of any individual or political party in the track. We are just commenting about the corruption," Akshay said.
Khatta Meetha which also stars south Indian star Trisha is set to hit the theaters on July 23.