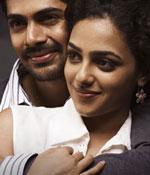 There is a belief that youth-oriented films should deal only with romance and campus life. And writers and directors arm typically themselves with campus lingo, trendy costumes, foot-tapping music and other such paraphernalia to make youth films. But when veteran directors like Sibi Malayil, who is celebrating his silver jubilee year in Malayalam film, come up with a youth-oriented subject, the expectations are high.
His new film Apoorvaragam has young actors Nishan, Asif Ali and Nithya Menon in the lead. It begins as a typical love story of a shy Roopesh (Nishan) being smitten by Nancy (Menon), a rich girl, on campus. It takes a lot of pushing from friends, particularly his best friend Tommy (Ali) to convey his feelings to her. In the process we see all the ingredients of a campus film from the early 1980s, making us wonder why the director chose a subject like this now.
Then comes a torrent of surprises, which never allows the viewer or the story to settle in a groove. G S Anand and Najeem Koya's story tries to introduce some novelty to a stale theme, but their efforts are in vain. They fail to command viewers' attention and even tie up some loose ends. To dwell on the story more may prove to be a spoiler.
Nishan and Ali, who first appeared in Shyamaprasad's Rithu, try to look easygoing. But, don't succeed completely. Initially, Ali seems to be devouring the psychopathic traits in his character, but the magic in his performance pales as time goes by. Nishan, on the other hand, looks lost from the beginning. He finds it difficult to pull off villainy with his good-boy looks and does not match up to Ali.
Menon, who captured our imagination through her small appearance in Kerala Cafe, keeps the magnetism alive with her charming looks and acting.
The movie cannot be written off lightly because of Nithya and Ali's efforts. But if we look at Apoorvaragam as Malayil's work in his silver jubilee year, it is a disappointment.
Rediff Rating: