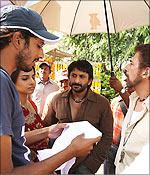 Naseeruddin Shah has been wowing us with his performances through 35 years. And his brilliance still goes on.
Today, the actor turns 60.
Abhishek Chaubey, who directed Naseer in one of his best films Ishqiya, gives Patcy N a behind-the-scenes glimpse of the man.
The first time I met Naseerbhai was in 2003, just before Maqbool happened. I was just one film old then -- I had assisted Vishal Bhardwaj on Makdee.
Naseerbhai was the first actor to be finalised in Maqbool.
Vishal and I met him at Mumbai's Prithvi theatre where he was rehearsing for a play. I was still wide-eyed about the industry -- I had lived in Mumbai only two years then -- and that meeting was quite intimidating for me. I rattled out the dates. He was quite patient and heard me out. I don't know whether he remembered anything after I was done.
Naseerbhai was a big support on Maqbool. He was happy with the script and the fact that Vishal was making an adaptation of Macbeth. He helped us a lot with the casting. Vishal would discuss the entire cast with him before he finalised the actors.
If Vishal wanted any change in the script, he would call up Naseerbhai and ask for his opinion. I saw Naseerbhai as a figure who was behind what we were making, and totally believed in what we were doing.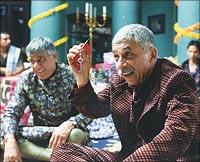 Workshops in those days were a rarity, unlike today. But Maqbool had one. The entire cast and principal crew was packed off to Matheran (a hill station in Maharasthra) for five days. Naseerbhai not only worked with the actors, he also looked into the technical exercise. It was really innovative at that point of time and you can see the benefits in the film.
As the shoot went along, I discovered another side of him. He's very chilled out, sensible and down-to-earth. Since he was a senior actor, I had to be very careful not to get on his bad books. Gradually, I became comfortable with him.
Even at this age, Naseer does not sugar-coat his opinions -- what he feels about the people in the industry and how the industry functions. He is a rebel even at this age. Some of his views are those that a young man would share -- a young man who is disillusioned by the system, who wants the industry to function better and one who wants better films to be made.
Despite his immense success, his views about the world are not coloured by it. He still has a balanced head on his shoulders.
People think of him as a whimsical actor but he has a very practical approach towards his craft. I really admire that. I have seen how he works very closely. If he sees the team working honestly, he is the best guy around because he is always good humoured then. But if he sees dishonesty and insincere people, he loses his cool.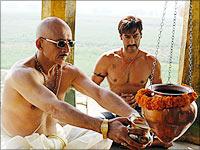 People think that Naseerbhai he is very serious and moody but that is not true either. He's very boyish if he is not taken seriously. And he usually says it for the right reasons.
I was one of the writers of Omkara. He was quite blown by the script. He said he was not a fan of Othello (from which the film was adapted) but Omkara was the best adaptation of the play. That was quite a compliment.
Omkara was made around the same time his directorial debut Yun Hota Toh Kya Hota was being filmed. He would be quite worked up and stressed, so coming on the sets of Omkara was like a break for him.
Naseerbhai shot with us for 10-12 days only but by then, my relationship with him had become better. I knew what to expect. We started sharing a friendly and cordial relationship.
We are quite frank, and we have opinions of a lot of films and things in the industry; and how films should be made. We share an honest relationship and I really respect him.
In Ishqiya, Naseer played a role that was 10 years younger than his real age. After he read the script, he told me that he enjoyed it but was apprehensive of how convincing he would be. I told him that no one in his age group would be able to play the romantic character like he could and make it believable.
Initially, it was difficult for me to speak to him as a director because I wondered how I could tell him to act. So I was just there to help him whenever he needed it. Even though he is such a senior actor, he would sometimes ask me if he should stand or sit in a particular scene. That brought out his complete trust in me.
I would discuss changes in the script and scenes with Naseerbhai even if he was not in it.
Our relationship grew on Ishiqiya, and I could speak to him on anything. We got along like a house on fire. The first few days of the shoot went off smoothly. But after 15 days, when the shooting gets tough and people get tired, even then he was very charming and relaxed. He would be homourous on the sets. He told me that he had shot for a 50-day schedule after a long time, and had enjoyed it.
It's very difficult to pick a favourite Naseer film because he has done more than 150 films. But when I was young, I liked Mirch Masala. He played a very mean character of a subedar. I distinctly remember the scene where he is sitting outdoors and listening to a gramophone. I also liked Sai Paranjpe's Katha and Shekar Kapur's Masoom.
After working in the industry for 35 years, he really needs to be commended.