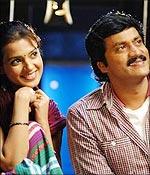 S S Rajamouli obviously knows the pulse of the audience. That's why he has always given them what they want, and become one of the most successful directors in the Telugu film industry today.
Rajamouli tries out a new genre in Maryada Ramanna, and chooses comedian Sunil as a hero, opposite Saloni. And he provides a lot of entertainment yet again. Maryada Ramanna is fun, full of thrills and suspense -- all rolled into one in the right proportions.
Set in Rayalaseema, the hotspot of factionalism, the film shows both sides i.e villainy and hospitality. The hero's father and the villain's brother are killed more than two decades ago when the hero Ramu (Sunil) was an infant. His mother runs away with Ramu to Hyderabad.
Years later, Ramu takes up a job as a delivery boy to earn his keep. He transports gunny bags of groceries on his rickety circle.
One day, he gets a letter where he comes to know that he has some five acres of land in his village. His kind neighbour warns him to be careful about Rayalaseema.
Ramu sets out and sees the beautiful heroine, as she's running to catch the train. He extends his hand only to be pulled out on to the platform. They catch the train and he is quite struck by her beauty and drawing abilities.
After a series of hilarious episodes on the train, they reach their destinations.
Filled with fun and suspense, the film is thoroughly enjoyable even though it is predictable at times. The situations created ensure that there is no dull moment. And for this, credit must be given to Rajamouli.
The situational comedy is not distracting or inane. The thrill factor is seamlessly intertwined and the ensuing action is quite a delight. The screenplay ensures the right blend of ingredients.
The dialogues in the Rayalaseema dialect gel well with the scenes. The atmosphere of Rayalaseema is created well in the house set (by art director Ravindra).
Rajamouli made Sunil lose weight for the film and the actor delivers. Without going over the top, Sunil is able to captivate the audience.
Saloni looks pretty and is convincing too.
Nagineedu portrays the role brilliantly. There are quite a few others like Brahmaji, Anuj Gurwara and Rao Ramesh who perform well.
M M Keeravani shines as the music director, especially the songs Ammayi kitiki pakkana and Telugu ammayi. The latter is already a chartbuster.
The camera work (Ramprasad) and editing (Kota Venkateswara Rao) is smooth. Rama Rajamouli's styling is good, especially for Saloni.
Maryada Ramanna is thoroughly enjoyable. Rajamouli sure has a winner on his hands.
Rediff Rating: