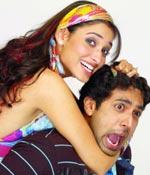 Pavithra Srinivasan reviews the Tamil movie, Thillalangadi.
There are some actors who can carry off  quirky, flaky characters with aplomb. Ravi Teja actually managed to pull it off in the Telugu Kick.
But in its expensive Tamil remake Thillalangadi by editor Mohan, its hero doesn't even come close. And you wonder whether it was the fault of the director Jeyam Raja, or his brother, Jeyam Ravi.
Not that things seem so very desperate when the movie opens. An angelic Nisha (Tamannaah), dressed in the best of midriff-revealing fashions is in a train in Malaysia. She's chatting seriously with Krishna Kumar (Shaam), a cop, and unraveling the story of her life, and a young man who turned it upside down.
The young heart-stealer in question happens to be Krishna (Jeyam Ravi), a happy-go-lucky prankster who lives life just to get a "kick" out of it. Everything, from helping a friend's secret marriage to drinking a glass of milk needs to have that extra something in it, a jolt that makes everyday life spicy.
That's when Nisha runs into him and in approved filmi fashion, the two start squabbling. You're actually sympathetic towards Nisha after a point, because the girl makes sense, and Krishna's instinct to get a kick out of everything frankly makes you want to gnash your teeth. Krishna's parents (Prabhu and Suhasini) add to the feeling of inadequacy.
But these are minor irritants, as you find out later. A good deal of the time in the first half is also taken up by the permanently hilarious Jackson aka Jacky (Vadivelu), who's also after Nisha.
After all the brilliantly colourful, carefully choreographed song-and-dance routines (Sol Pechu is very neatly picturized, and is a treat to the eyes), Nisha finally realizes that Krishna has no real intention of settling down in life. He works for just four days and then quits because he's lost the 'kick' and gives him a proper dressing-down (possibly the only part of the film that actually strikes a chord). She loves him, she declares, but she will never marry him.
So far, so good. And when her companion thus far, ACP Krishna Kumar declares that he has a nemesis as well, a man whom he's vowed to arrest, looking daggers at the screen, it looks like things will get better.
Except that it all goes downhill.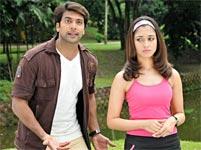 What follows is a tale so ridiculous that within ten minutes, you're itching to call it quits.
Krishna or Kick resumes his supreme silliness and proceeds to outwit the ACP and a whole batch of cops who, apparently, have nothing much to do except stand around, gaping at his escapades.
Krishna thinks nothing of stealing cars (money, of course, is a given), bashing dozens of men, spout punch dialogues and ram through buildings, while Krishna Kumar frowns, growls and spits out dialogues like a terrible 80s movie.
In fact, a good deal of the flavour is a lot like a 70s psychedelic MGR movie, complete with scintillating colours, skimpily clad females and songs at the drop of a hat. When the reasons for Krishna's actions are revealed, you heave a sigh of relief, but it's too soon for that: it's more than 3 hours before the climax arrives, and its every bit as tedious as the rest.
This role ought to be a cakewalk for Jeyam Ravi. He has, after all, proven himself a capable actor, willing to take risks and a dedicated performer. Call it the problem of the script or the corny dialogues, but every time he rolls his eyes and cracks inane jokes, it falls completely flat. The only times this is alleviated is when Vadivelu, Santhanam (in a miniscule role) or even Radha Ravi appear out of the blue. Even these secondary characters seem to make more impact than the protagonists. Ravi himself shows his acting skills at certain point only; he certainly looks the hero, with his impressive dancing skills. You wish he'd been allowed to act, instead of mouthing platitudes.
Tamannaah has a dream role: all she has to do is wear beautifully designed and tiny clothes, accessorize (and she does this really well) and dance hard. She does this with elan, and obviously has relished the opportunity. And she is expressive when she needs to be, which is a definite plus. You can't really fault her for being little more than eye-candy; that's all the scope the movie offers.
Shaam is easily the corniest character of the show but the credit for that entirely lies with the director. Every facet of his character is outmoded, one-dimensional and so cardboardish that you blink in astonishment. He makes random declarations about catching a thief, shoots guns, parades in jeans and shades and certainly looks very cool. Unfortunately, there's nothing even remotely cool about his modus operandi. How he hunts clues, conducts investigations or arrives at any conclusion are never explained.
For that matter, none of the so-called brilliant characteristics attributed to Jeyam Ravi are explained either, so he seems a glorified James Bond when he pulls off the most amazing stunts with no background.
Yuvan Shankar Raja, perhaps realizing the futility of the project, hasn't tried very hard. In any case, Thaman has provided two numbers from the Telugu original.
B Rajasekar's camera-work is very good, providing the smooth, soft tones required for romance, while the SFX team has done a commendable job as well. Sasi Kumar's editing skills aren't evident, though.
Thillalangadi's biggest drawback is its ridiculous plot, and equally silly dialogue. Shorn of that, it would have made a reasonably entertaining movie. As it is, it now works chiefly because of the comedians, Tamannaah, and, to a limited extent, Jeyam Ravi. Don't go expecting logic or rationale; these concepts are alien in the movie.
Rediff Rating: