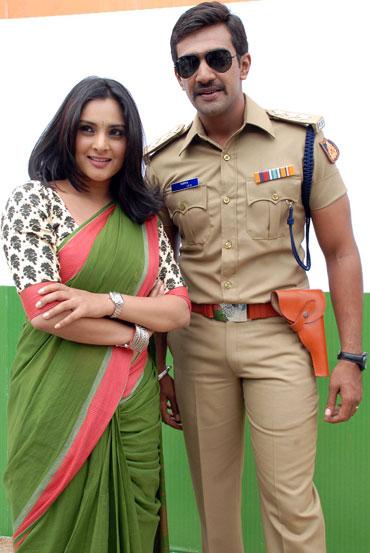 Two of Gautham Vasudev Menon's directorials are being remade in Kannada and both have actress Ramya in the lead.
While the Kannada version of Vinnaithaandi Varuvaayaa is yet to go on floors, Dandam Dashagunam, Kannada's Kaakha Kaakha, was launched recently.
Ramya gives a brief on her role in Dandam Dashagunam, "I didn't want to do remakes this year but when I was offered this film, there were no second thoughts as I absolutely loved Maya-Jyothika's role in Kaakha Kaakha. Also I have never played the role of a school teacher before. You'll see me pushing myself to give my best in this film."
Actor Arjun Sarja's nephew Chiranjeevi Sarja, who debuted with Vaayu Putra, romances Ramya in the film. Chiru becomes Kannada film industry's latest cop with this film.
"I play a strict officer working in the crime branch in this film. Suriya had played this role in the original and comparisons are bound to crop up, so I am working hard and hoping to reach the benchmark he has set with his performance," he says.
The actor has not only watched the Tamil film but a whole lot of other cop movies as well to pick up the nuances. 
So will he be seen aping Suriya's mannerisms?
"At a few places it becomes necessary to follow his mannerisms as the character requires such body language and expressions, but otherwise I have given my own touch to it," he says.
Coincidently his character is named Surya in this film. The actor has also toned himself for the role. He will be seen sporting a crew cut and a moustache. 
The film is being directed by Madesh of Raam fame. "This is the first time that I am directing a police subject. It is also nice to work with Ramya. We had approached her for Raam, but due to date problems, she was unable to accept the project," he says.
Speaking of the film, he says unlike in the original, the hero will not be shown as a very emotional person. The film is also not high on comedy, he adds.
Harikrishna is the music director and all the songs will be original compositions. Shooting will take place in Bangalore, Mysore and Kushalnagar across 75 days.
Sai Kumar's brother Ravi Kumar has been cast as the villain. Jeevi, who has acted in Telugu and Tamil films, and Tilak are also a part of the cast.
Incidentally, the Hindi version of Kaakha Kaakha also will also be made soon with John Abraham in the title role. Asin who did the Telugu version was supposed to play Maya in the Hindi version but the latest news is that she has been replaced.