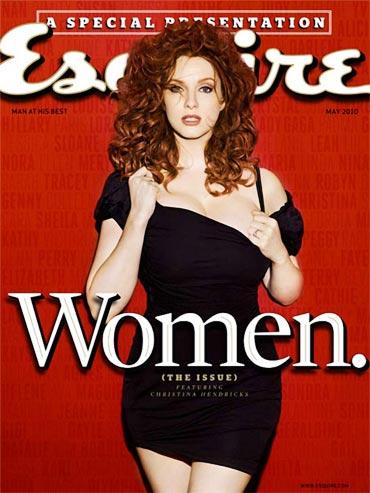 For years, the world's most beautiful lists have been dominated by busty beach-ready blondes and Mediterranean-esque raven-haired beauties.
Meet 35-year-old Christina Hendricks, the star of AMC series Mad Men, who earlier this year was named Sexiest Woman Alive by readers of men's magazine Esquire.
Her look is distinguished yet undeniably ravishing: fire red hair (dyed!), creamy vanilla skin, an archetypal hour-glass figure and pale blue eyes.
So voluptuous is this vixen that she has major trouble finding a designer gown to wear! She recently told Glamour magazine: 'It is difficult come awards season, and I need to find a gown to walk down the red carpet in, and there are only size zeros and size twos available.'
With the heavily awaited fourth season of the award-winning Mad Men just now airing in the US, and with three forthcoming films, including Katherine Heigl's Life As We Know It (October), 2010 is most definitely the year of Hendricks!
What do you think? Does Christina Hendricks make the grade as Sexiest Woman Alive?